LAND ROVER
DISCOVERY SPORT
July 8, 2016

3,057
Discovery Sport's progressive design sets the tone for a new generation of Land Rover Discovery premium SUVs. These vehicles will be positioned in the Leisure family of Land Rover's three-pillar brand architecture: Luxury (Range Rover), Leisure (Discovery) and Dual-Purpose (Defender).
Discovery Sport's interior architecture offers superior quality materials. This is complemented by a high level of versatility with 5+2 seating and elegantly integrated stowage areas. "Every Land Rover must have design leadership and outstanding all-terrain capability," said Gerry McGovern, Land Rover Design Director and Chief Creative Officer. "For the Discovery family of vehicles, the key differentiator is versatility. Our challenge has been to combine premium design with exceptional versatility; the two attributes must work in harmony. I'm proud to say we've achieved that; Discovery Sport's dynamic design will resonate on an emotional level with consumers, and this vehicles more versatile than any other premium compact SUV."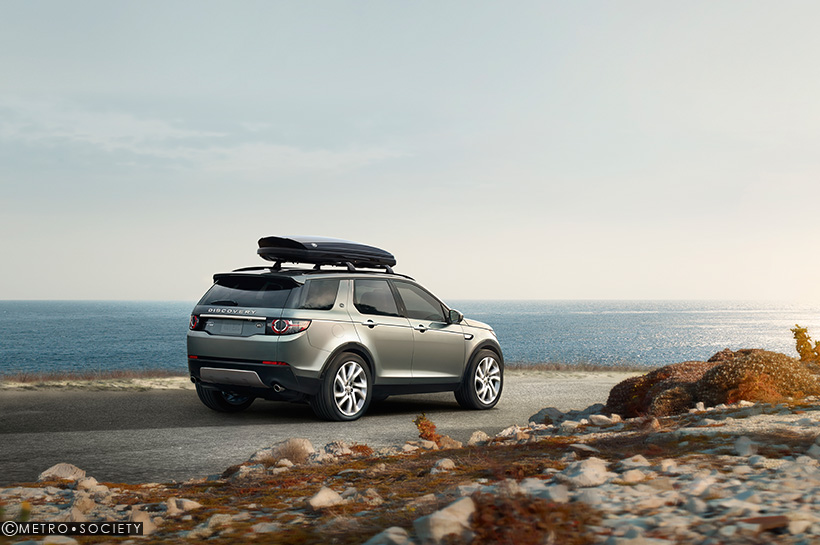 At 4590mm long, Discovery Sport's compact footprint is 239mm shorter than the seven-seat Land Rover Discovery – which also remains on sale – while its generous wheelbase of 2741mm creates exceptional legroom. This has also allowed Land Rover designers to pull the alloy wheels out towards all four corners of the vehicle. The result is a visually robust, compact stance and low centre of gravity that's suggestive of Discovery Sport's agile, planted driving experience. Sleek, wraparound corners further reduce visual bulk of the front overhang.
Signature features include a clamshell bonnet and distinctive two-bar grille with hexagonal mesh. Characteristic design cues complement the perfectly balanced proportions. Smoothly contoured body surfaces, strong and dynamic lines, and robust detailing including rugged skid plates signal Discovery Sport's incredible breadth of capability.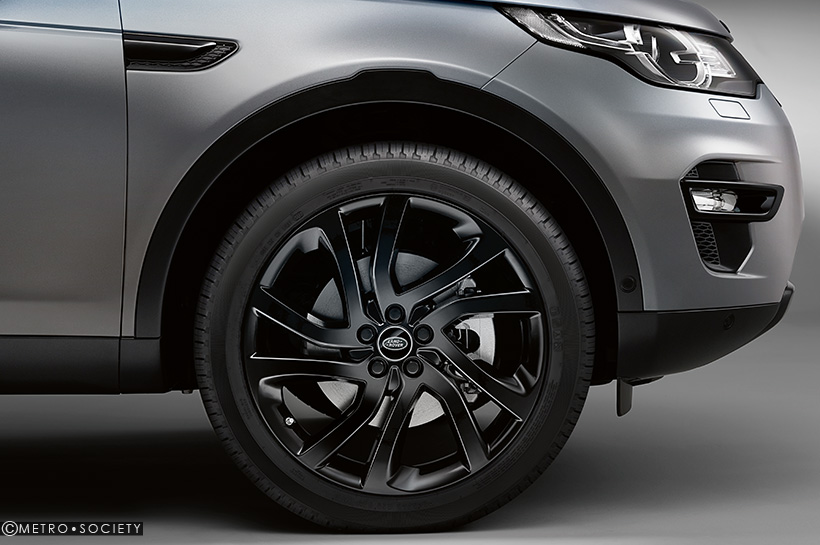 Discovery Sport is available with up to four 12V power points, while as many as six USB charging sockets can be specified for all three rows. This allows multiple electronic devices to be recharged simultaneously. HSE Luxury derivatives have a larger console that includes a sliding armrest and a roller storage section with two removable cup holders located underneath; this space can be separately and quickly re-configured to offer space to securely hold a two-litre bottle.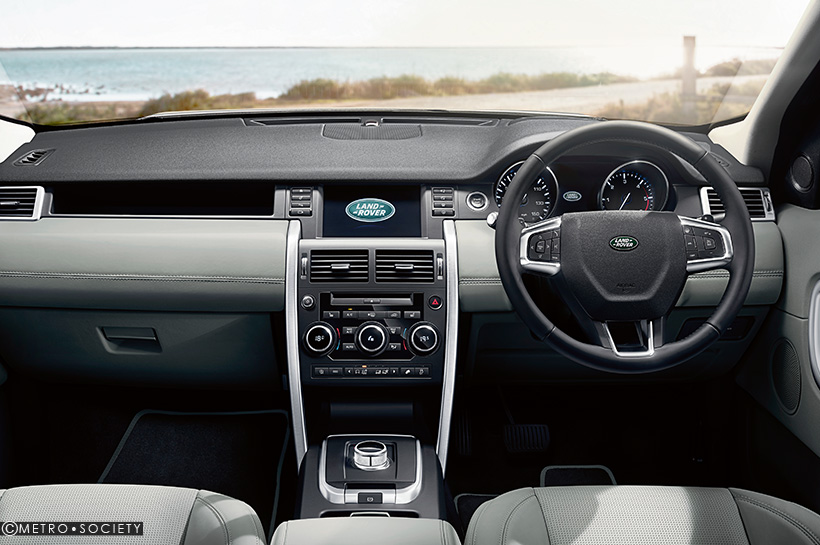 Discovery Sport dual-zone climate control with an LCD interface for the driver and front-seat passenger. For dual-zone systems, the air vents for row-two occupants are mounted mid-way up the B-pillar for more effective cold-air distribution. If both dual-zone climate control and 5+2 seating are specified, an independent control unit is available, allowing row-three occupants to set their desired temperature and fan speed; row-three air vents are also positioned mid-way up the C-pillar. Other convenience features include a sensor to detect and automatically clear windscreen misting, and an air-quality sensor that switches to re-circulation mode should high pollution levels be registered. ECO mode optimises the air-conditioning system – along with other vehicle settings – for maximum efficiency.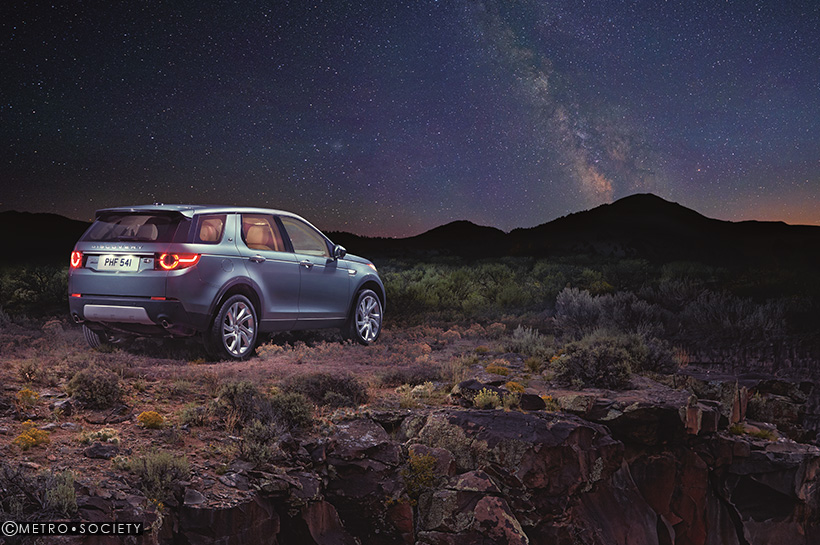 With fully independent suspension, Discovery Sport delivers dynamic and refined on-road behaviour allied to outstanding off-road capability. Featuring lightweight aluminium chassis components for high strength and reduced unsprung weight, the new chassis also helps to reduce interior noise and increase occupant space.
Coil springs are used on the front suspension, with steel front lower control arms and aluminium suspension knuckles; the suspension struts use advanced hydraulic rebound stops for excellent refinement. This vastly reduces noise entering the cabin when, for instance, the suspension rebounds after impact with a deep pothole.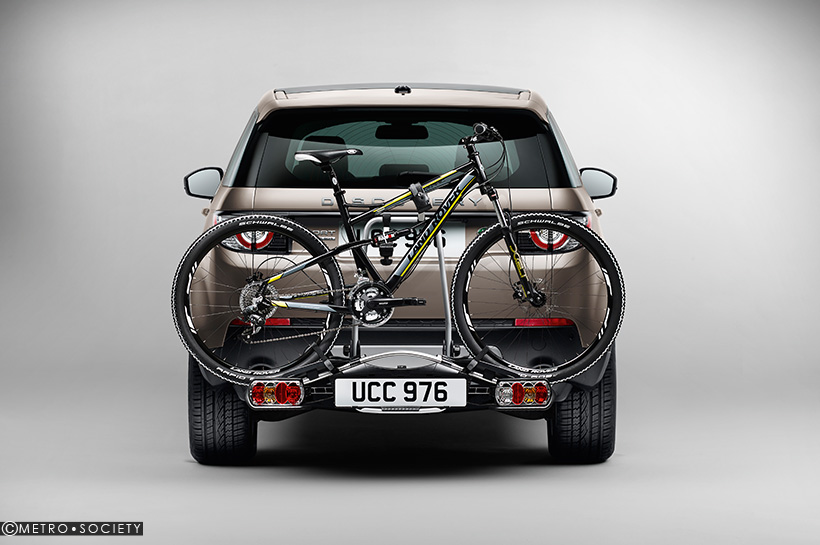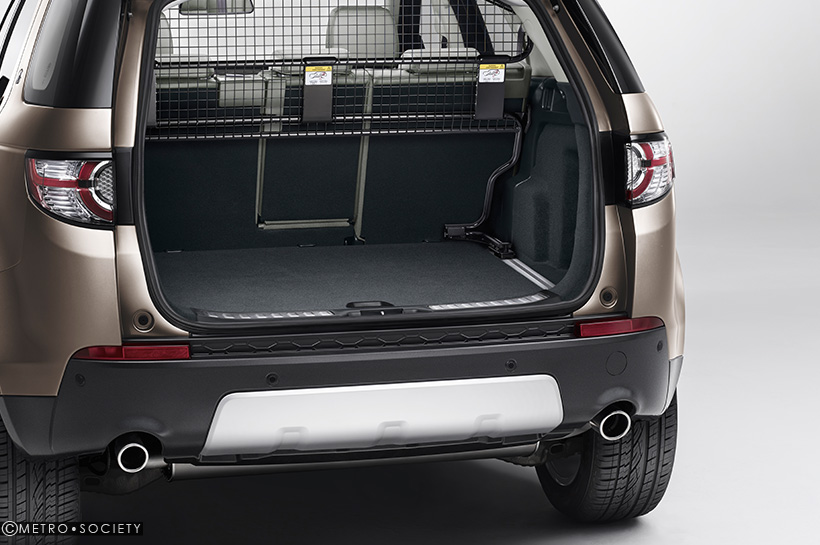 Discovery Sport has also been optimised to provide excellent refinement, comfort and handling on the road, with exhaustive tests on everything from British B-roads to the Nürburgring Nordschleife. The new multi-link rear axle, for instance, ensures exceptional refinement and agility, while the suspension compliance that's key to the Discovery Sport's off-road composure also makes for unruffled but rewarding progress on the road.