PRADA UOMO • Fall/Winter 2018
September 1, 2018

46,022
Prada Men's Fall/Winter 2018 fashion show transmits the idea of its multiple identities. Just like in a warehouse, everything is catalogued and stored. All have its own identity through the I.D. code and label, making the theme of the entire collection both simple yet complex.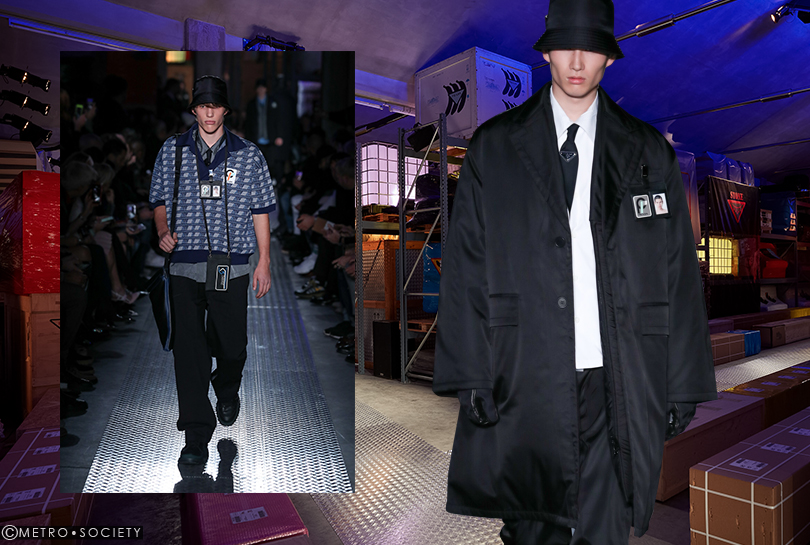 For the very first time, PRADA has invited four celebrated creative minds to each work on a unique item. 'PRADA Invites' manifests four radically different approaches that investigate the poetic, practical, technical and aesthetic aspect of nylon. The focus is shifted to the industrial side of the multi-faceted PRADA identity. Ronan & Erwan Bouroullec, Konstantin Grcic, Herzog & de Meuron and Rem Koolhaas have each worked with the simple brief of creating an item using the Black Nylon fabric, the Prada Icon.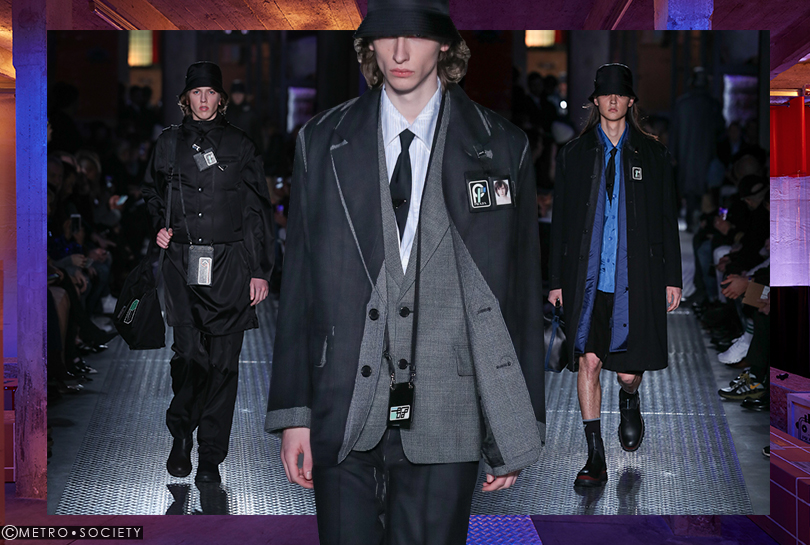 Black Nylon, Prada's Iconic, is once again showcased through the nylon gabardine looks with a sleek and geometric silhouette. The nylon is padded with soft, compact wadding; making it extremely light and different from the previous collections.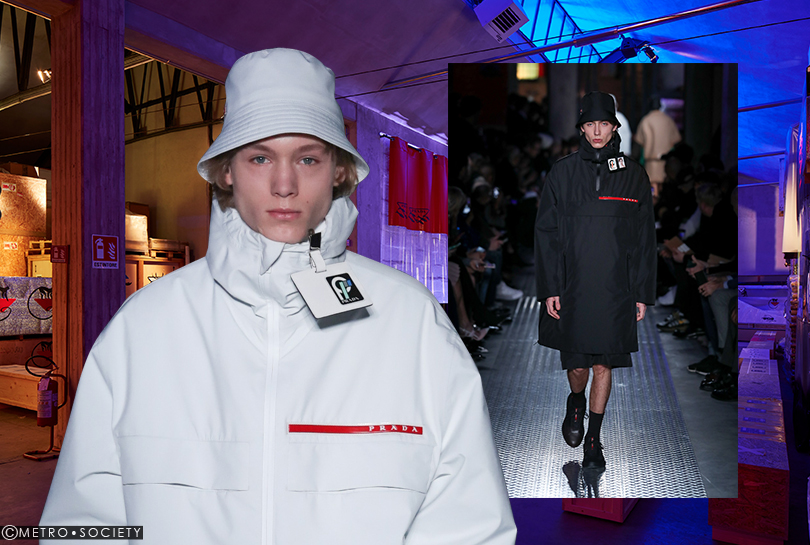 Prada's iconic prints from various seasons come into play, mixed on the same garment, just as the prints of different styles are combined in an imaginary warehouse for a totally new and striking result. Unquestionably expresses a fierce, young looks while evoking an idea of casualness yet precision.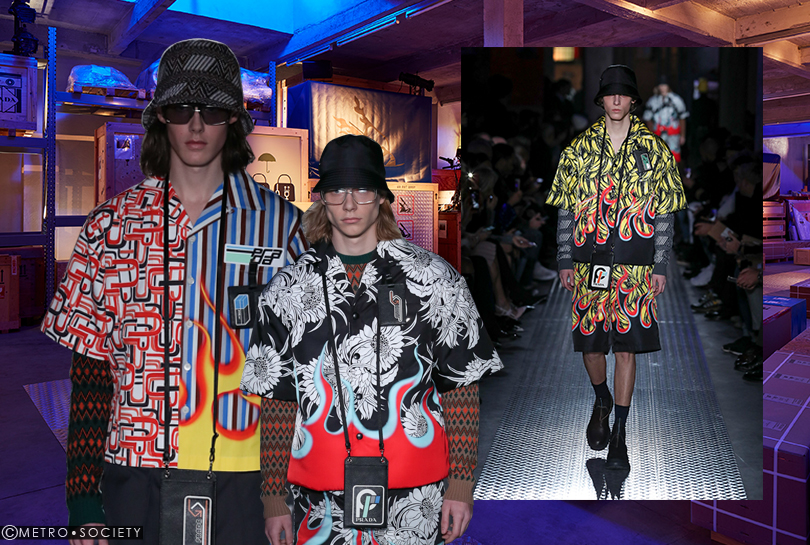 Footwear carries the message of representing a non-ephemeral world and focusing on the essence over the appearance of a person. Range from sporty leather shoes to neoprene ones to emphasize casual and practical use.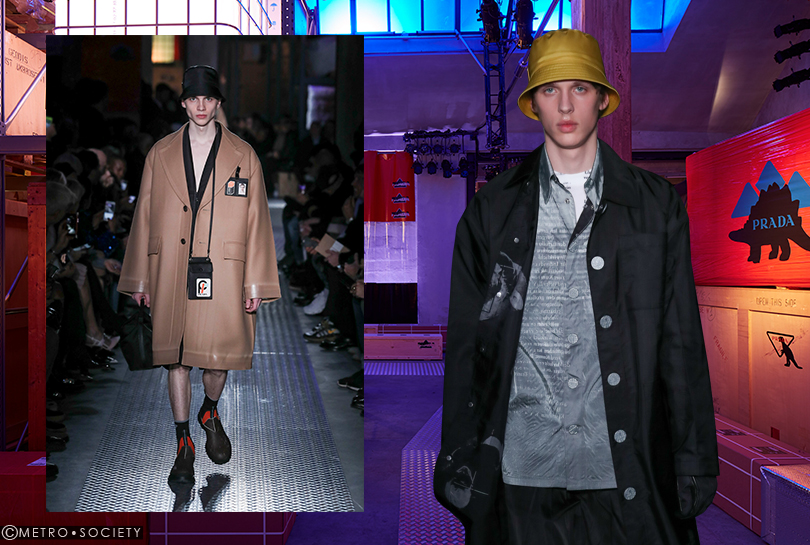 Bags exhibit clear contrast between the large soft shoulder bags and smaller crossbody bags with shoulder straps. The materials used for these bags include, nylon fabric, leather, and overprinted leather. Other accessories include the badge holder, a simple rain hat, belts, and black nappa leather gloves.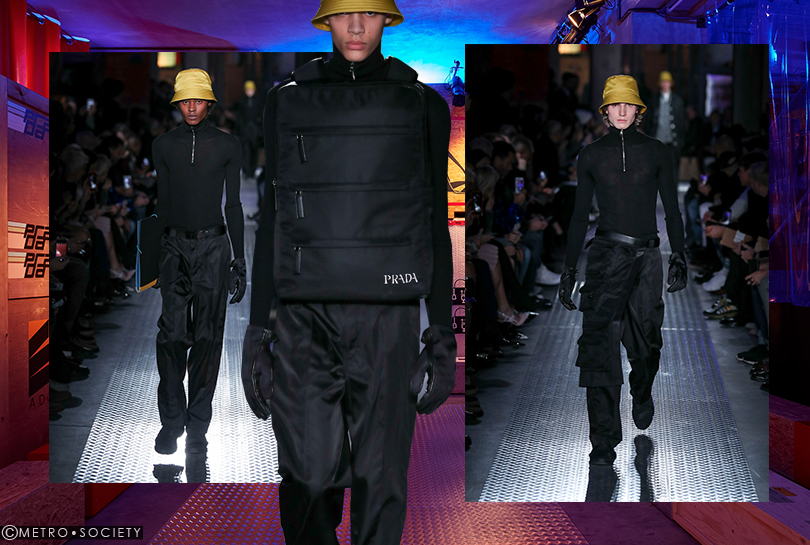 Within the show space, the boxes, crates and all other objects that colonize the warehouse are marked with a series of ambiguous symbols that express the multiplicity of the Prada identity. The depositories of Viale Ortles, Milan, translated into an oneiric and surreal archive, where the multifaceted essence of Prada comes to life, turning the warehouse into a venue that both speaks of Prada's accumulated identities and its place within the contemporary.