LOUIS VUITTON #PF19
: Pre Fall/Winter 2019
July 5, 2019

8,514
Fall Winter 2019 Precollection : a term for fashion lines traditionally rooted in wardrobe staples, released in the lead-up to main collections. For the Fall Winter 2019 Precollection, his first of its kind for Louis Vuitton, men's artistic director Virgil Abloh investigates the nature of the intermediary clothing line and updates the ongoing V ocabulary According to V irgil Abloh launched in June.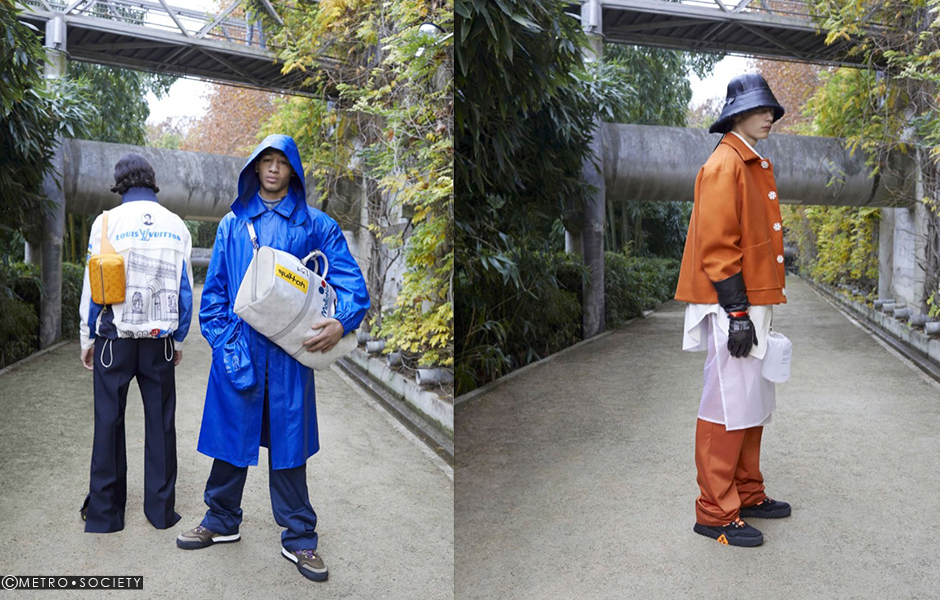 Identifying the idea of essentials – meaning pieces key to any wardrobe – the notion of trendless and timeless garments and accessories informs the collection. With its tension between past, present and future, the cultural melting pot of Tokyo serves as an overall motif. Wardrobe staples and colours draw on everyday Japanese uniforms found in public service, outdoor pursuits and sports. Graphics pay homage to Japan.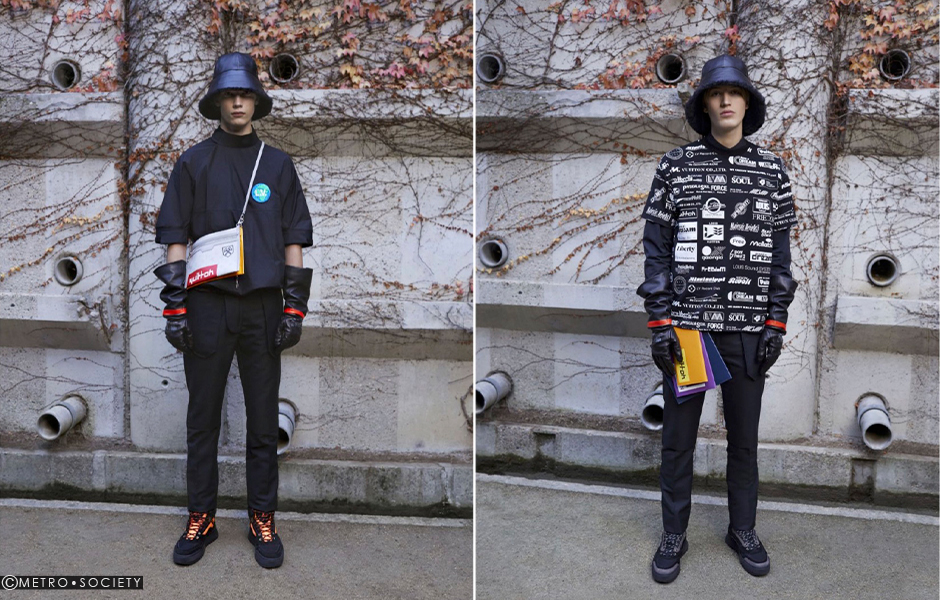 Windbreakers, shirts and t-shirts adorned in multi-emblems nod at jackets worn in remote controlled boating competitions. Trench coats and parkas in navy Japanese raincoating fabric or black leather echo the dress code of watersports alongside a bright blue lightweight hooded leather parka. Bomber jackets associated with collegiate dressing are interpreted in purple Japanese check or taupe fox fur, while a black leather aviator jacket is illuminated in white shearling and python tapes. The collection's take on a fleece jacket, a blouson appears in off-white felted shearling and red velour pockets.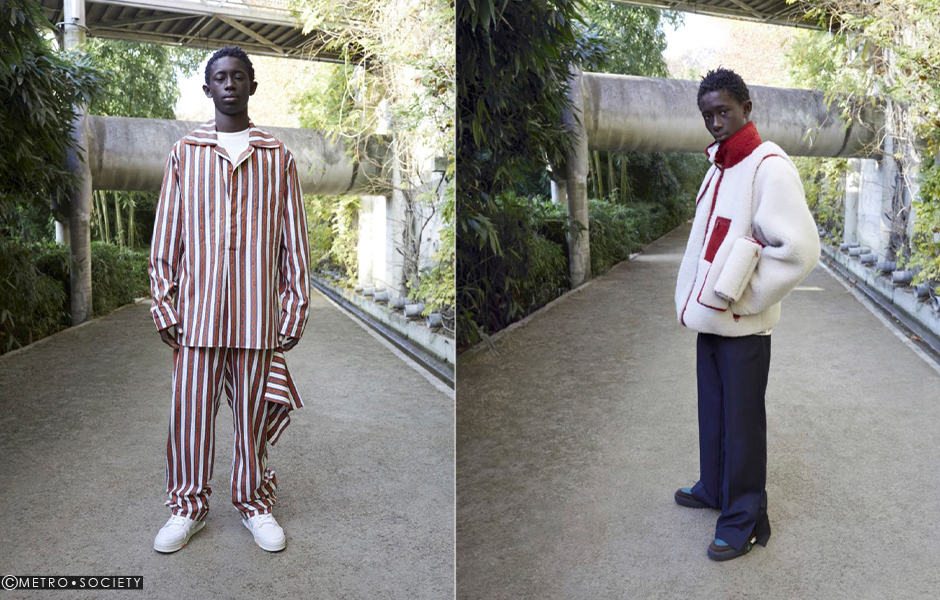 Introducing the leitmotif of boyhood, Virgil Abloh debuts a threedimensonal extrusion technique across outerwear, tailoring and harnessing in navy and orange, reflecting the idea of protective clothing that swaddle and swathe a boy in the first stage of his life.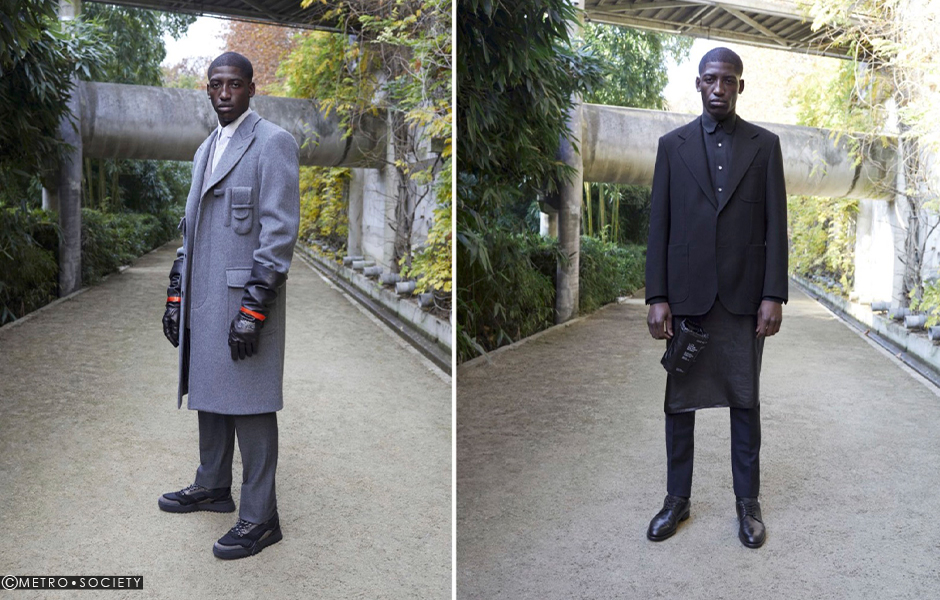 Tailoring builds on the previously established signature crease, alongside the concept of mid-layering where blazer, trouser and harness make up a new take on the three-piece suit. Trousers materialise with ankle splits, in interpretations of cargo classics or with inside-out pocket detailing.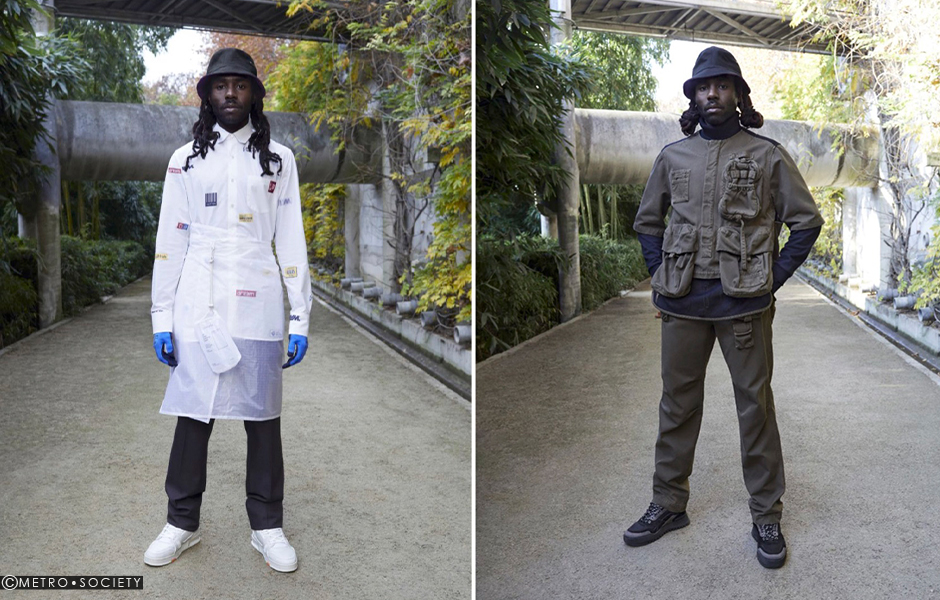 Accessomorphosis, a portmanteau for morphing garments with bags, appears throughout the collection. Fall Winter 2019 Precollection further introduces compressomorphosis, a term for garments accessorised with wrapper bags into which they can be entirely compressed for travel purposes. Bags adapted from the spring/summer 2019 collection emerge in navy, ochre and purple monogram denim, and embossed black leather. A flat tote and a crossbody messenger are rooted in domestic and disposable bags, while chalk bags, mini crossbody bags and backpacks allude to those used in extreme sports.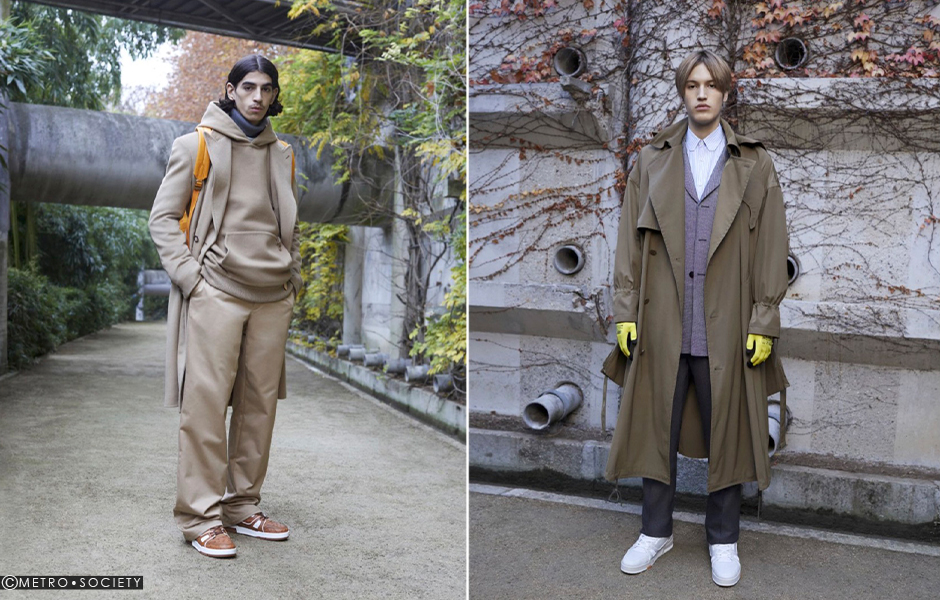 The reference is reflected in shoes hybridised from hiking boots and sneakers, and in a pointy take on the classic work boot in camel nubuck leather. Sneakers appear in exotics like ostrich and crocodile, while formal derbies are sportified with neon detailing. Jewellery reiterates the normcore values of the collection. Here, heart-shaped logo rings in green and aqua crystals are evocative of conventional engagement rings, while gourmet chains are evolved with links in crystal, gold, engraved Monogram and blue and orange enamel.