JOHN VARVATOS
• Spring/Summer 2016
July 13, 2016

44,175
In the early '70s, Southern California saw an influx of British rock stars, all brandishing iconic flamboyance and dandy-informed style. Legends like Fleetwood Mac, Jimmy Page, and Keith Richards—the latter a source of both personal style and design inspiration for JV—were drawn to the relaxed bohemian aesthetic of the SoCal music scene. Areas like Laurel Canyon provided a backdrop for this distinct meshing of lifestyle cues, which morphed into something entirely new.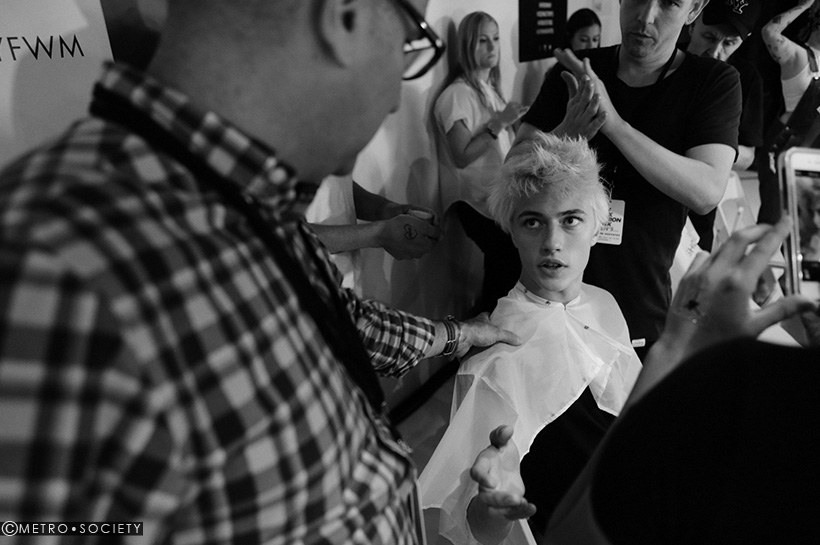 The resulting ambience could be felt as deeply as the saturated melodies of the greatest albums released in this migration's wake. It is this vintage-sourced aesthetic which is expertly peppered along the edges of the John Varvatos DNA for spring. While the clothing remains timelessly relevant and independent of rigid themes, the end result emits the vivid charisma of an early '70s rock 'n' roll moment.
Opening with emblematic striped suiting, cascading from the runway backdrop to the style lines of the first ensembles, the collection plays out in a spectrum of olive, summer whites, and aubergine. A range of elegant greys with pops of rich burnt red, navy and khaki underline an expansion into a fresh realm of color. A new sensibility is woven into standard essentials, while innovative fabric treatments fuse product categories unexpectedly.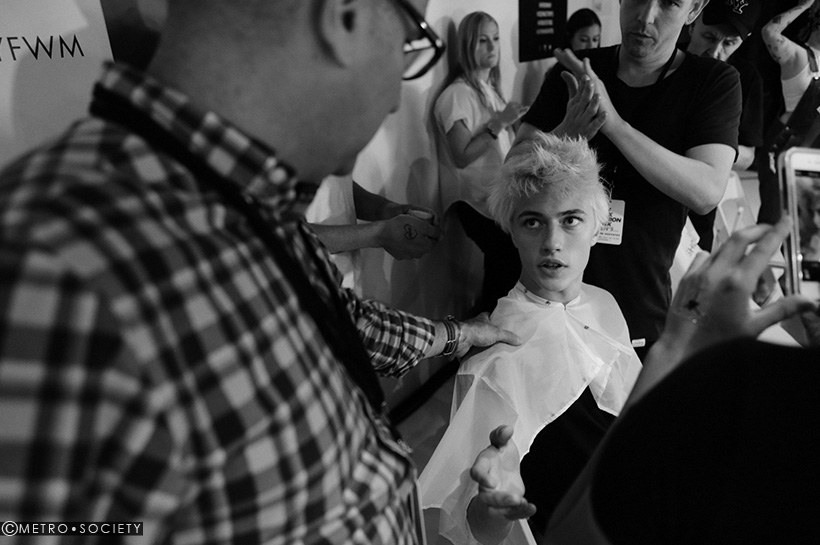 The dandy stripe is shown in a tailored jacket and epic duster coat, further paralleled in coordinating button-paneled boots. A robust leather trimmed duffle follows suit. Stripes are paired in varied widths alongside soft pattern mixing, manifested in sport shirts, linen tanks and featherweight scarves in abstract animal print, worn as bandanas.
Some knits are given woven construction, while others are rigged to mimic the texture of animal skin, further accentuated by the luster of metallic threads. Luxurious fiber blends underline the elevated quality of key pieces, such as a burnished lambskin jacket with an unexpected silk-linen sleeve. Elsewhere, linen-wool blends are presented in a lineup of soft tailored jackets, while moments of elegant striped suiting are rendered entirely in silk. A dual-tone cotton piqué jacket holds two hues in its folds as it moves. An abstracted animal print jacquard touted in suit separates showcases a duality that earns its place in the contemporary spring wardrobe.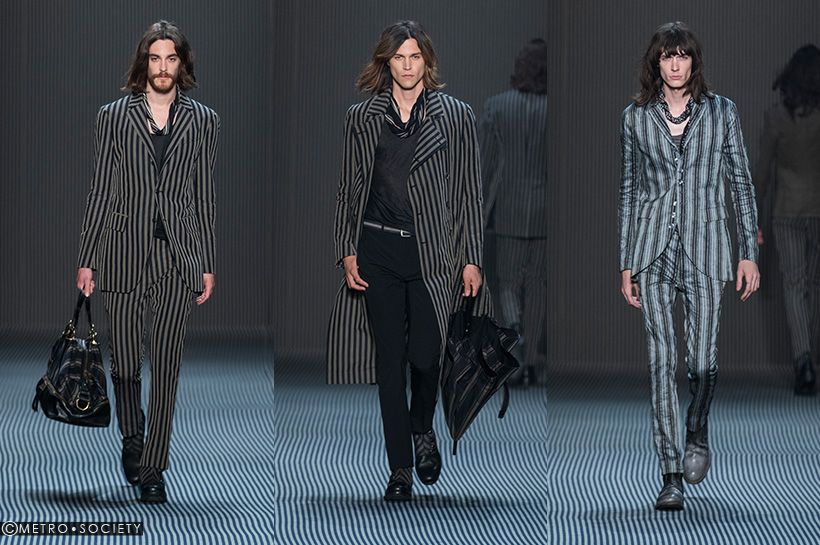 Lavishly upgraded, the tailored denim jacket is reimagined in a smooth indigo-dyed silk tuxedo. One and three-button silhouettes, crafted with updated shawl and peak lapel collars, are presented with acute attention to heritage and richness. Slub silk yarns provide an old world texture to otherwise wildly modern tailored separates, while satin binding trims the front of a dapper, yet effortless military-inspired band jacket. A testament to the level of luxury appreciated by the John Varvatos customer, one classic leather jacket touts hand-staining and patina treatments that require over a week to accomplish.
Showcasing a variety of hand-finishes, washes and burnishing, footwear is impeccable in its individuality. The chunky silhouette of the iconic Chelsea, with hand-etched detailing, grounds the lightness of the spring lineup, while black scored calfskin creates a living texture over the white base of the Richards Sharpei. Degradé effects and hand finishing emphasize the brand's tradition of producing unrivaled, memorable footwear. Bags are profound and strong, pairing the visual appeal of bold stripes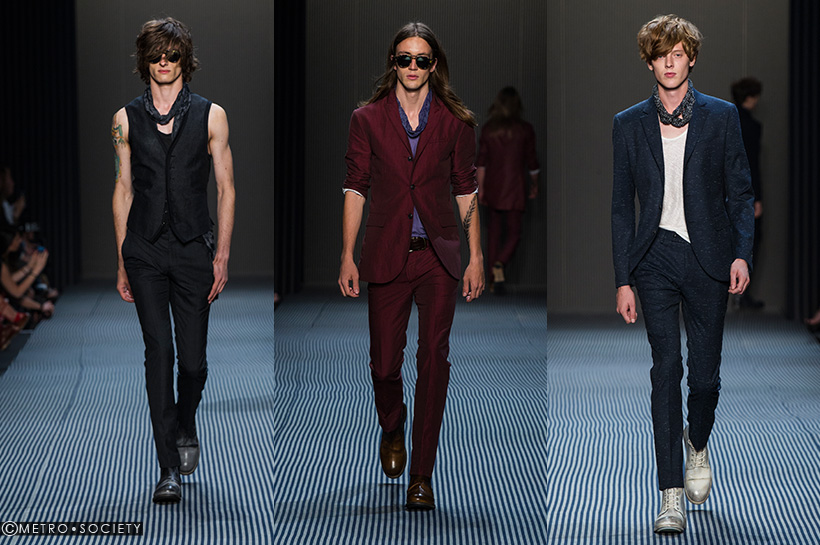 and rich leather with a plethora of compartments to utilize via oversized hallmarked hardware. Accessory fabrics play back into the collection while a range of silhouettes in bags, from the cross body to the attaché, satisfy the requirements of every modern man. As a final touch of punctuation, half- mirrored sunglasses drive home the contemporary attitude that guides each vintage reference.
Each piece in the collection is ripe with narrative, no detail left to chance. From start to finish, classic concepts are manifested in exciting new ways, with repeated evidence of the extraordinary artisanal process that goes into producing each component of the designer's evolving vision.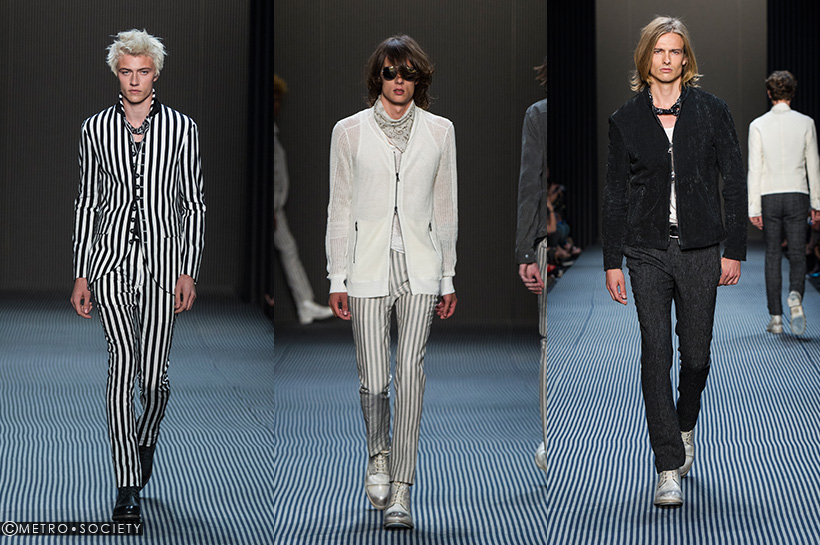 Music Credits: "Animal" - Badflower
"Ghost in my Head" - Andrew Watt
"Criminal Imagination" - Tyler Bryant "Runaway"- Andrew Watt
"High" - Andrew Watt (finale song)
• Spring/Summer 2016 Ad campaign
...................................................................................................................................................................................................................
JOHN VAVATOS
social media @JohnVarvatos
Central Embassy Level 1 Tel. 02-1605803
Central Chidlom 4th Floor
Paragon Department Store 2th Floor
Zen Departmentstore 4th Floor
1 of 8

2 of 8

3 of 8

4 of 8

5 of 8

6 of 8

7 of 8

8 of 8