LES PARFUMS LOUIS VUITTON
• A journey that begins on bare skin
August 23, 2016

57,717
Since its founding, the Maison Louis Vuitton has always been guided by a passion for distant horizons. From its very first, now-iconic trunk, Louis Vuitton made a promise to accompany voyagers' curiosity wherever they travelled. But sometimes you need only to close your eyes to be transported to the other side of your own world.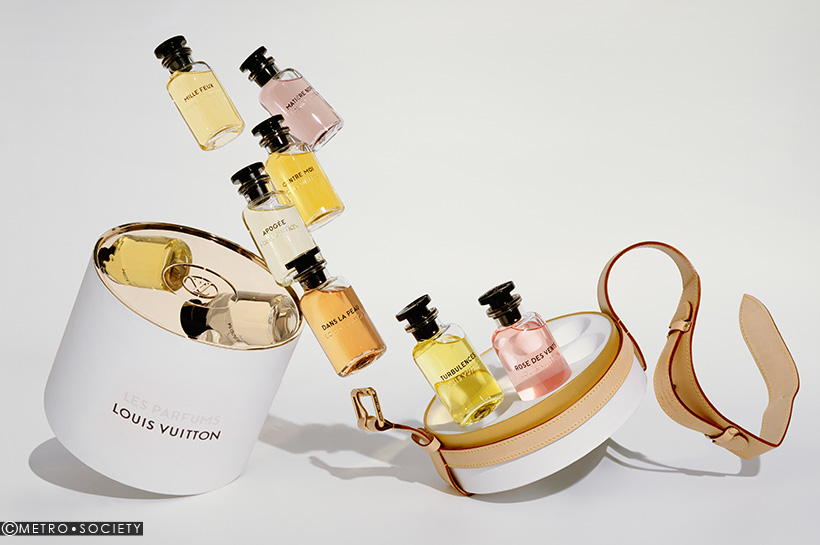 Intimate, abstract and metaphorical, travel is not a destination. It's a feeling. It's a continuous movement that nourishes body and spirit. A vibration that makes your heart skip a beat. An everlasting imprint on the memory. An emotion that transforms being. Today, these suspended moments have inspired a new savoir-faire: Louis Vuitton perfume.
A native of Grasse, the birthplace of both perfume and leatherwork, Master Perfumer Jacques Cavallier Belletrud spent months travelling the five continents in search of unexpected emotions. The kind you feel when you breathe the fragrance of exotic and rare materials. Those that are inspired by the wild abandon one experiences when far from home. Then, he imagined seven olfactory journeys. Seven creations to anoint bare skin, to venture out in search of oneself. Seven scenarios provide inspiration along
the way. Seven intensely feminine eaux de parfum. Les parfums Louis Vuitton.
From the airiness of Rose des Vents to the intoxicating Turbulences, the ecstasy of a first night with Dans la Peau
to the mindful immersion in nature with Apogée; from the self-revealing Contre Moi to an exploration of a darker side with Matière Noire and the explosion of the senses with Mille Feux... Les parfums Louis Vuitton describe a journey of the emotions. The adventure begins.
---
Rose des Vents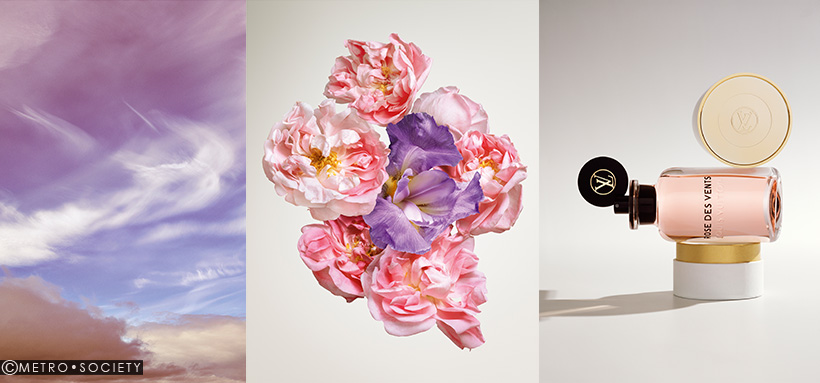 A navigator's indispensable tool for orientation, the compass entices free spirits to travel. A breeze evoking the caress of silken fabric concentrates the four cardinal points of harmony.
Inspired by a desire to compose a fragrance that is as airy as it is silky soft, Jacques Cavallier Belletrud transports us to Grasse, to the middle of a field of centifolia roses. But there is nothing nostalgic or syrupy about this May rose. Buffeted by the wind, it is vibrant. Listen carefully and you could almost hear it breathe.
To create the impression of petals floating in the wind, the Master Perfumer used an exceptional trio of roses. Centifolia absolute, in a carbon dioxide (CO2) extraction, is a refined raw material exclusive to the Maison Louis Vuitton.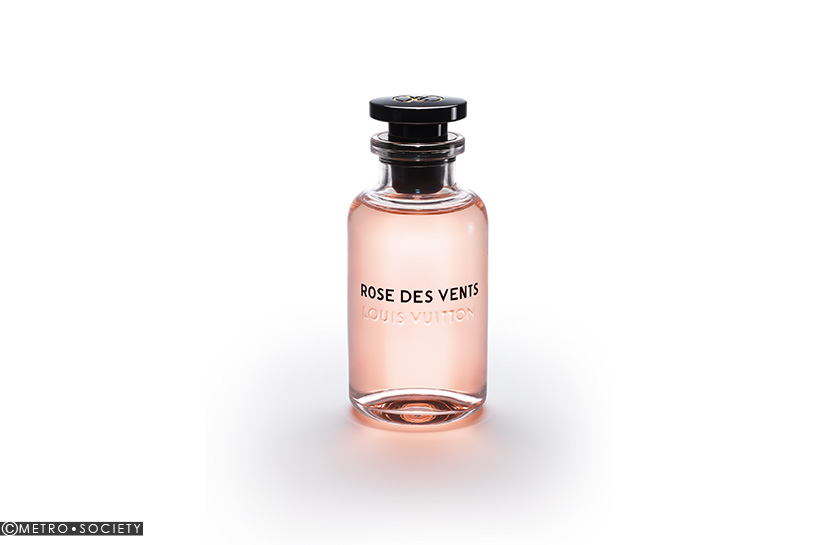 Turkish rose essence and Bulgarian rose essence are both steam distilled. While it may seem that the iconic flower has already disclosed all its secrets, here the rose reveals unexpected character. Sleek and stately thanks to Florentine iris and Virginia cedar, it takes on spicy, glazed accents when it comes into contact with pepper.
Gradually, a surprising sensation emerges. The composition becomes tactile. It is as delicate as the skin of a velvety fruit. As golden as the first light of day.
A perfect companion for any adventure.
---
Turbulences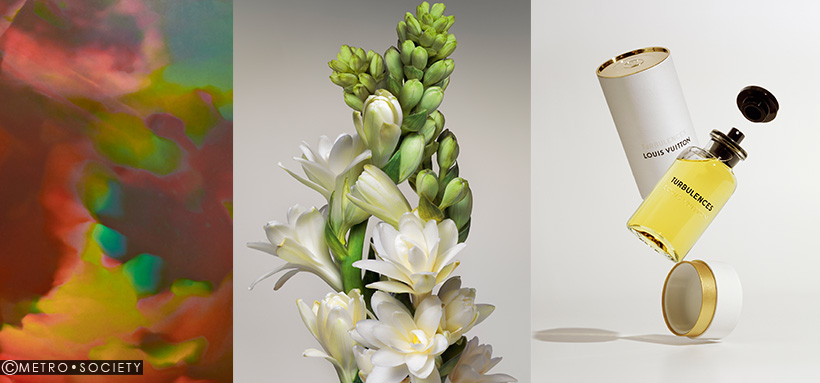 Discovering faraway lands can sometimes feel like
an upheaval. A leap into the void, like the feeling one has in an aeroplane soaring above the clouds. There is a fleeting fear that makes the heart beat faster, subside and then surge anew.
Inspired by a state that's akin to love at first sight, Jacques Cavallier Belletrud pays tribute to the most narcotic of flowers. A flower that invites ecstasy yet doesn't oppress and proves just as addictive as extreme emotion: the tuberose.
Turbulences captures tuberose at dusk, combining it seductively with but never overdosing on exotic fruits.
The idea came to Jacques one August evening in Grasse as he was walking to the gate of his garden with his father, also a perfumer. The two men stopped, suddenly struck by the fragrant fusion of white petals.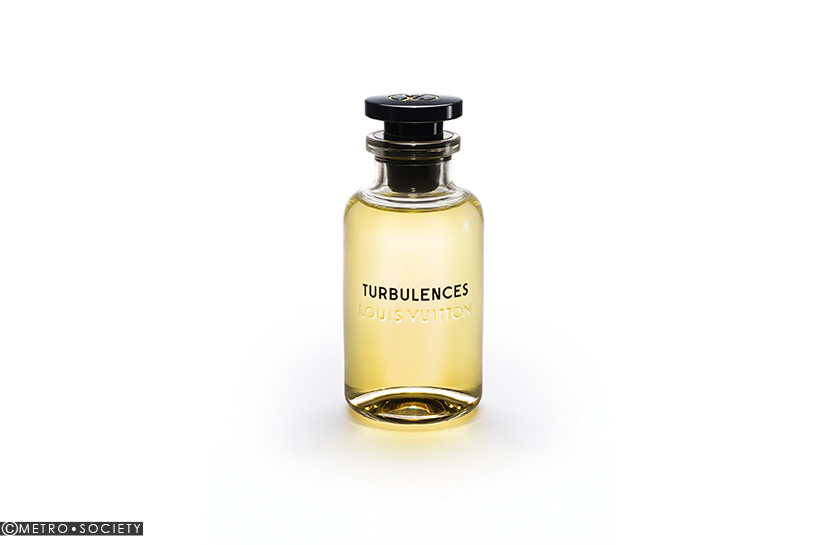 It was impossible to disentangle the scent of tuberose from that of the jasmine bushes in the garden. Deeply moved by this gift from nature, Louis Vuitton's Master Perfumer spent several months selecting the right palette to reconstitute that memory.
There was tuberose, of course, and also jasmine grandiflorum from Grasse, absolute of jasmine sambac—which the Chinese grow to flavor their rarest teas—and Chinese magnolia, May rose and a light touch of leather, for its animalistic character.
Spray it on the skin and swoon. Intensely. Deliciously.
---
Dans la Peau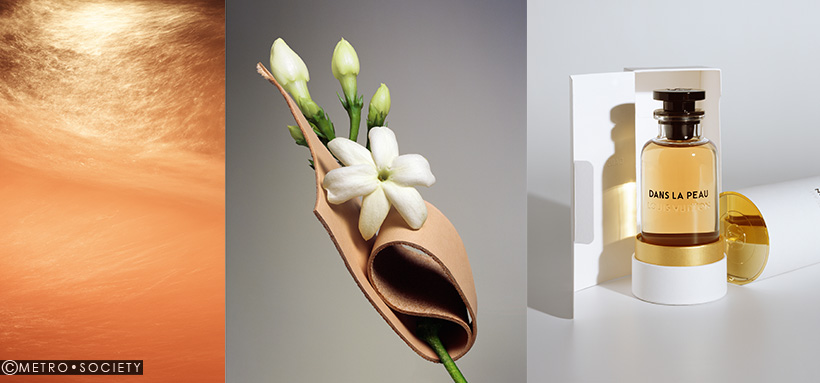 Does absence embolden desire? Travelling also has that power: to spark amorous embraces.
From these torrid evocations, Jacques Cavallier Belletrud has dreamt up an encounter as indelible as an imprint.
An exclusive infusion of natural leather from Louis Vuitton's workshops makes you want to surrender to a passionate embrace.
Intertwined with this exquisite leather are accents of almost- candied apricot, a CO2 extraction of jasmine from Grasse— exclusive to the Maison Louis Vuitton—and sambac jasmine from China.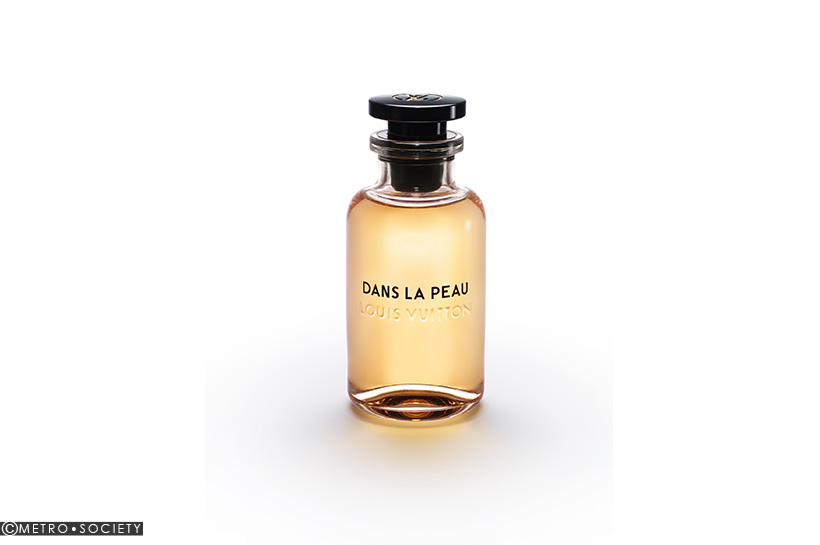 Then appears the absolute of narcissus, a singular flower that evokes both tobacco and the green of freshly-cut stems. The scent is boldly erotic.
A choir of the most sensual musks envelops the skin. Powdery musk. Clean musk. Animal musk. Floral musk. A breathtaking symphony calmed by touches of Chinese magnolia.
Dans la Peau does not feign desire. It lays it bare.
---
Apogee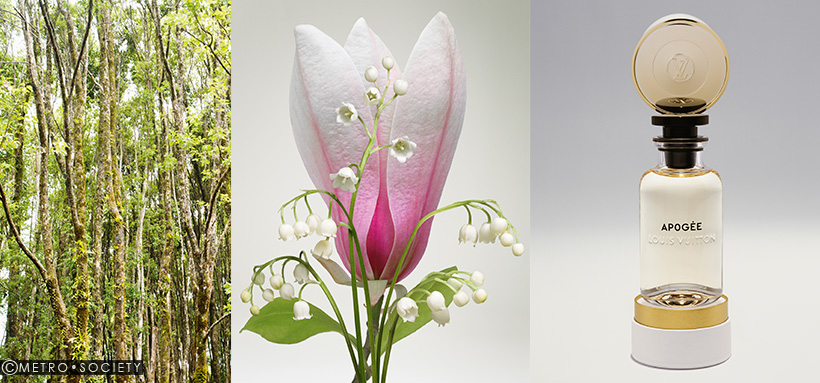 Some getaways let us reconnect with ourselves. We come up against the immensity of nature, the raw green of a dense forest, the silence of a still lake, the vertigo of a high mountain peak. And in this communion with the planet, normality gives way to what is essential: at every moment, being sensitive to beauty is all it takes to be reborn. Eternally.
To illustrate this unique sensation, Jacques Cavallier Belletrud chose a symbol of renewal: the lily-of-the-valley. Obsessed with this poetic scent that is revered in the West as well as in Japan, Louis Vuitton's Master Perfumer has imagined, with Apogée, an elixir of innocence.
A perfume that awakens the senses. To harmonise with the radiant lily-of-the-valley, he added Grasse jasmine, Chinese magnolia and an unprecedented quantity of May rose from Grasse in a CO2 extraction—a raw material exclusive to the Maison Louis Vuitton. A lace of petals seems to materialise on the skin.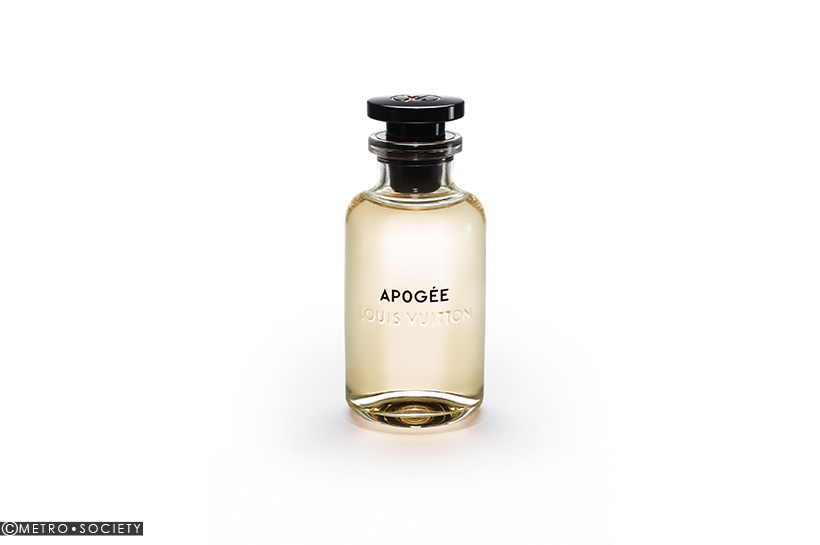 Then, behind the transparency and aqueous imprint of the still-green lily-of-the-valley lies a vibrant base that prolongs the floral effects. Subtly smoky guaiac wood and sandalwood essence support the bouquet like slender stems.
Nature is renewed, again and forever.
---
Contre Moi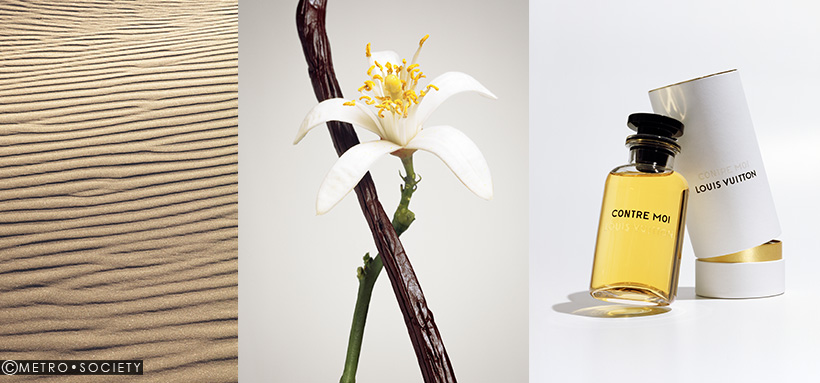 To promise the ends of the earth. To dare reveal oneself unadorned. Contre Moi evokes the fusion of two travellers. A sensual outpouring that tantalises and lets emotions rush to the surface.
Always fascinated by vanilla, Jacques Cavallier Belletrud knows all its botanical varieties by heart. Theirs is the Madagascar infusion, is almost leather-like, animal absolute and the precious Tahitensis vanilla. Instead of the black, plump pod, he prefers to draw inspiration from the orchid.
Contre Moi transports vanilla to uncharted territory: freshness. The composition then intoxicates the mind by subverting the senses. Comfort comes with the distinctive presence of vanilla, yet is disrupted by the oxygen from the flowers injected into the heart of the formula.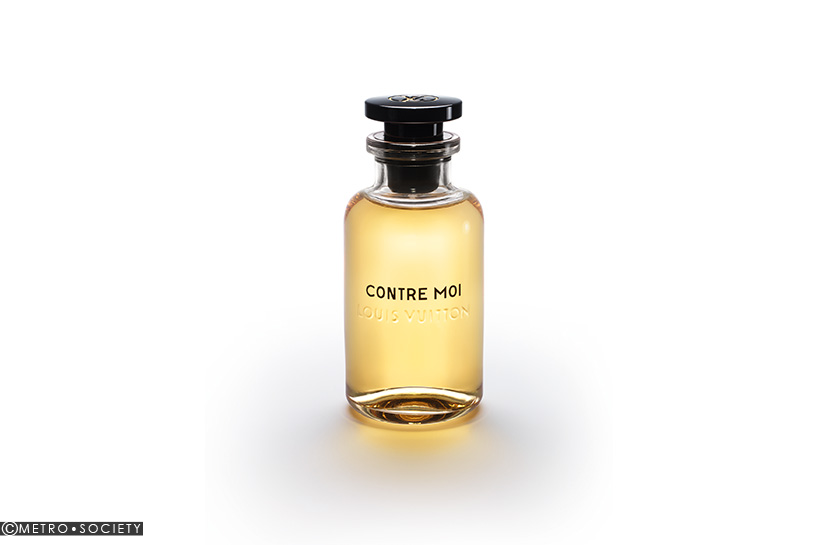 To this delicious thrill is added a cascade of delicate petals. Orange Blossom. Rose centifolia from Grasse. Essence of magnolia. A subtle touch of bitter cocoa reaffirms the perfume's rebellious temperament before leaving the field open to the ambrette seed, an addictive ingredient that simulates the presence of pear liqueur before metamorphosing into soft musk.
Contre Moi reveals a fresh, airy and unprecedented vanilla. An irresistible fragrance that makes you want to run away with someone.
---
Matière Noire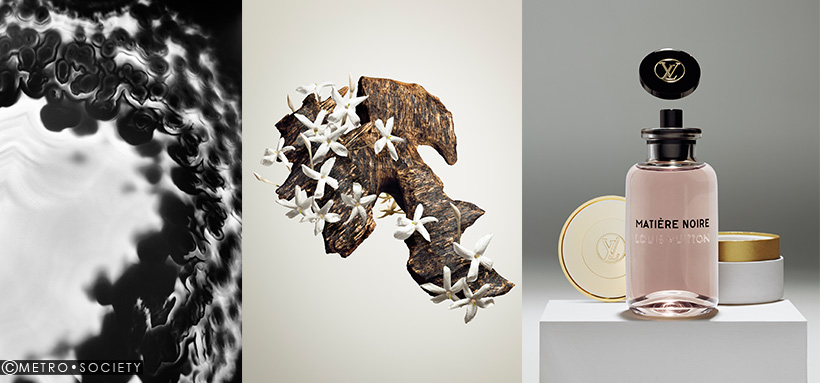 Exploring the universe is the ultimate travel fantasy and remains the most thrilling adventure. It's a cosmic saga that nourishes the collective imagination and plunges us into intense obscurity. Darkness so deep, opaque and intangible that time warps and the impossible becomes reality.
In imagining the mysterious matter we know so little about, Jacques Cavallier Belletrud decided to explore patchouli and beyond. He chose the most precious wood in perfumery, Laos agarwood, a scent whose every facet he has mastered for years.
To intensify the wood's animal depths, he pairs it with blackcurrant, contrasting the darkness with a light from white narcissus and sambac jasmine. The composition becomes weightless. There is a sensation of floating in space.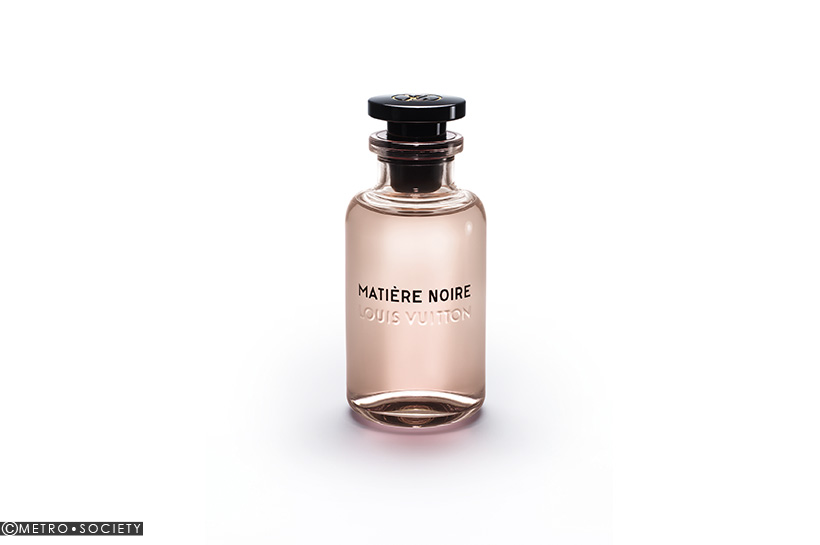 A floral vibration cuts the darkness like a comet. Centifolia rose in a CO2 extraction—exclusive to the Maison Louis Vuitton—and cyclamen evoke the morning dew. On the skin, the disruption is total, almost mystical. Plumes of sacred incense and benzoin balm encircle the composition.
Matière Noire is like an olfactory kaleidoscope: a continual metamorphosis cloaked by shadows.
---
Mille Feux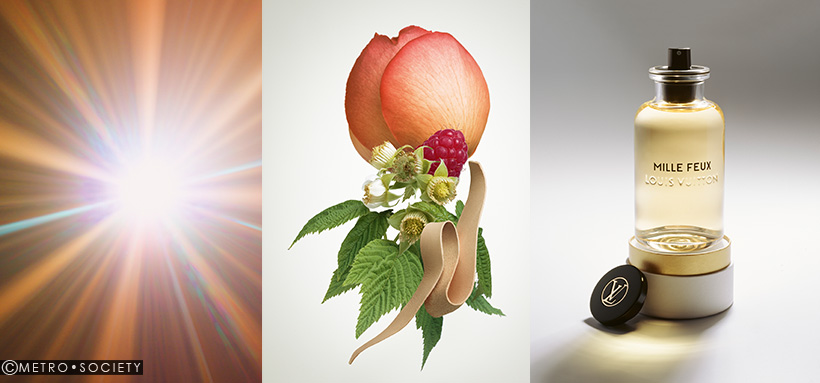 A golden ray, a starlit sky, the northern lights: light contributes to the magic of travel. Especially when it illuminates everything in its path, setting fields ablaze at sunset, bleaching roofs in broad daylight and biting the skin with a coppery glow.
Wishing to capture that glow in a fragrance, Jacques Cavallier Belletrud sought a vibrant color to weave into his theme. On a visit to one of Louis Vuitton's leather ateliers, he saw a craftsman transforming a raspberry-colored leather into a luxurious bag. The skin as bright as ripe fruit gave
him an idea: to associate the scent of leather with that of the berry. He shaped his composition with an exclusive Louis Vuitton leather infusion and Chinese osmanthus, a white flower with animal and apricot scents.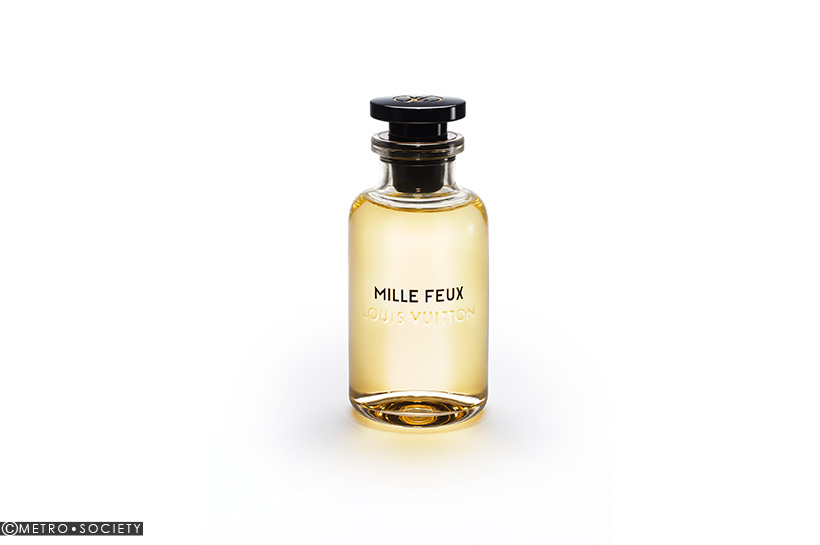 A touch of iris concrete blends with saffron, amplifying the leather's nobility. At the same time, the barely sweet raspberry accord comes into play. In a first-ever pairing, raspberry and leather fuse like lovers entwined.
Mille Feux is like an emotional bombshell. Fireworks. An olfactory apotheosis.
---
At a time when some still believe that luxury is a function of the weight of glass, the Maison Louis Vuitton frees the perfume bottle from the constraints of the past. Shouldn't real luxury mean elevating the most everyday gestures?
Created by designer Marc Newson, a master of simplicity, the Louis Vuitton perfume bottle embodies absolute purity. Clean lines are devoid of any embellishment. A drop of water, suspended. Black lettering on transparent glass. Even the brand name engraved in the glass remains discreet, revealing itself in relief to the fingertips or through a ray of light.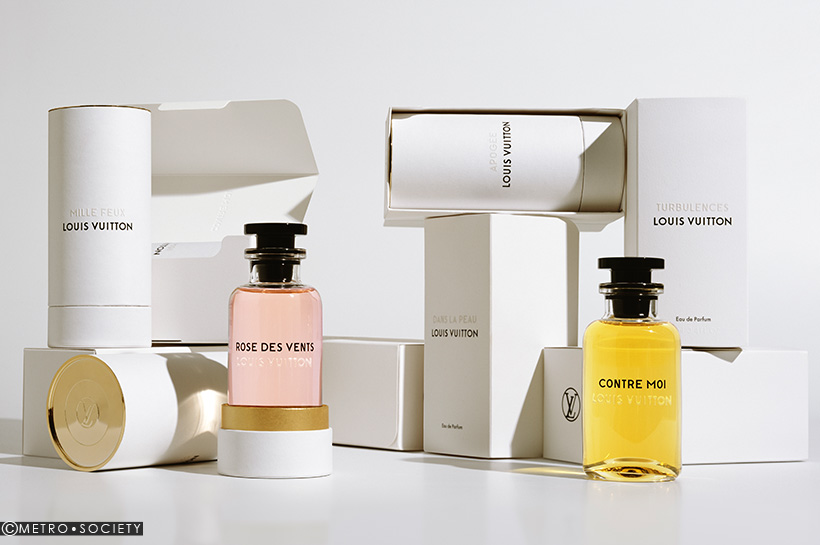 At the top of this ethereal bottle,a transparent black cap recalls pieces by Emery from the last century. Yet when the cap stamped with the LV initials encircled in brass is removed, an atomiser appears.
By seeming to reconnect with an old gesture, the Louis Vuitton brand projects its bottle into the future. Meanwhile, the white and gold paper packaging replicates the legendary cylindrical silhouette of Je, tu, il, a Louis Vuitton fragrance launched in 1928 and no longer in existence.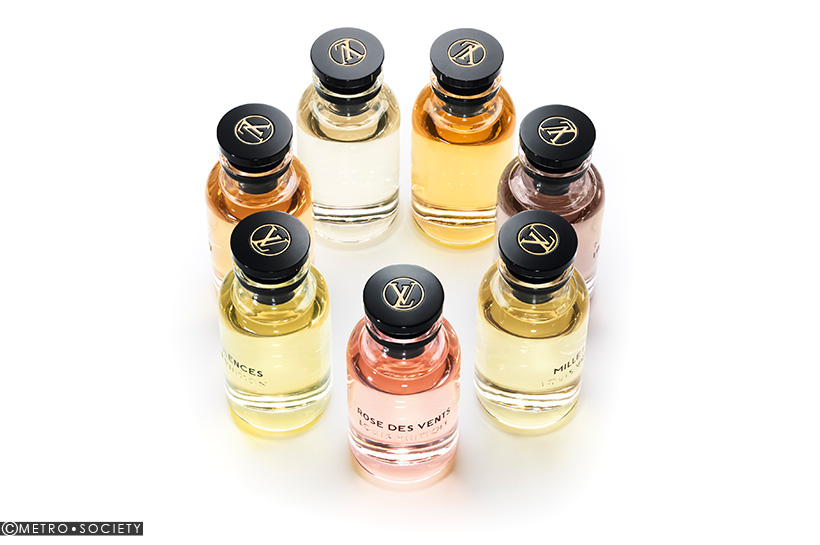 Each of the seven Louis Vuitton perfumes is available in: 200ml, 100ml, travel bottle with four cartridges of 7.5ml and a box of seven 10ml miniatures.
Louis Vuitton perfume bottles are designed to last, and may even be passed down. To refill them, simply bring them to a Louis Vuitton store. Each will have a perfume fountain, a tool developed specifically for these bottles.
Within minutes, with one click, the empty bottle is filled without any contact with the liquid, as if it were a futuristic capsule. This is also a way of commemorating Les Fontaines Parfumées, or "perfumed fountains", Jacques Cavallier Belletrud's creative atelier in Grasse, where in the last century clients could refill their bottles at the source.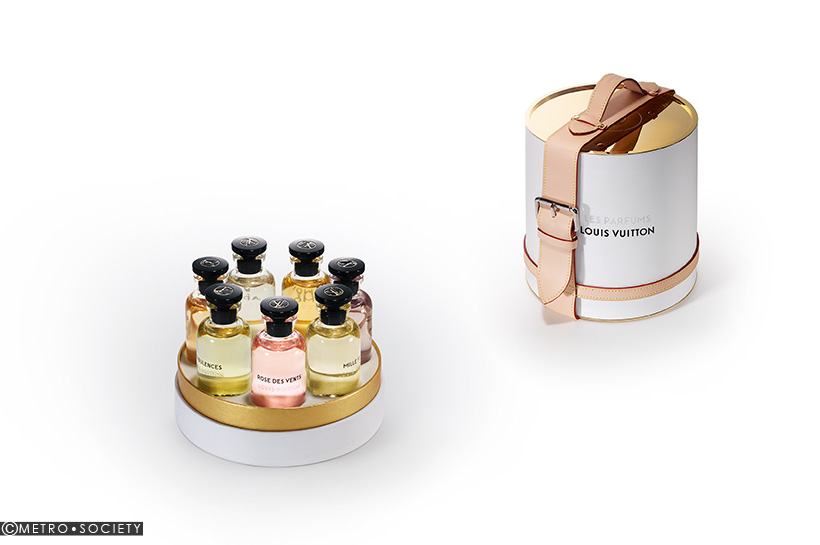 Created to accompany any trip, this set includes a travel bottle and four 7.5ml cartridges. Each of the seven Louis Vuitton perfumes is available in 100ml and 200ml. Designed with magnetic closures, these novel refills clip instinctively onto the atomiser. In just a moment, the travel bottle is primed and ready for a new adventure.
Conceived for collectors who wish to enjoy each of the seven creations, this Monogram case can hold securely three bottles from the collection.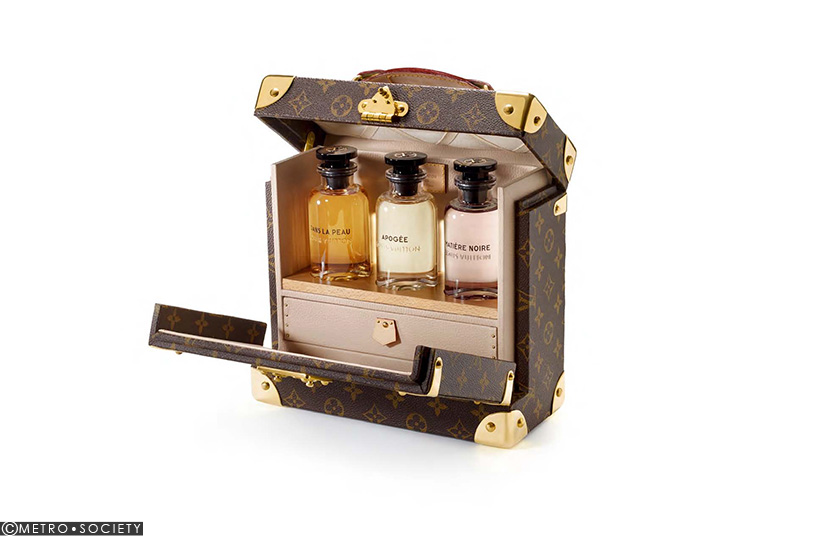 ---
A few questions for Jacques Cavallier Belletrud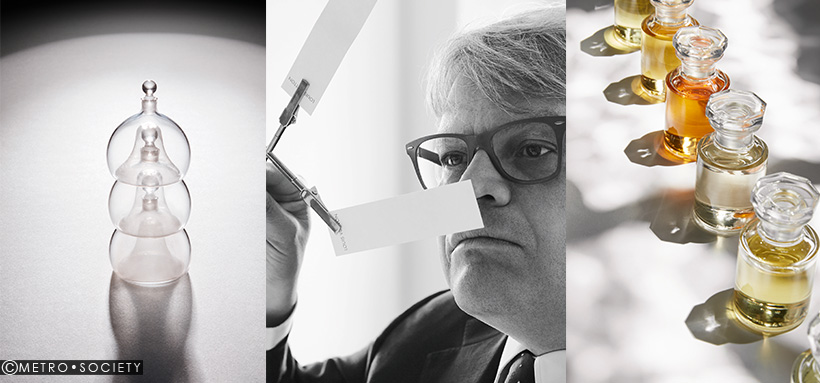 Q: Despite the conversation about unisex fragrances, you've chosen to dedicate these first seven creations to women. Why?
A: Without women, the perfume industry wouldn't exist. One can always consider that smells are genderless and everything is unisex. That said, I had a wonderful time imagining each of these creations on a woman's skin. I believe strongly in femininity, although not the kind that is relegated to the usual clichés. I wanted to offer women a collection that was dedicated to them, with strong emotions, just for them. And I tested all my creations on my wife and my eldest daughter.
Q: How long have you been working on these fragrances?
A: I started when I first arrived at Louis Vuitton in 2012. While I was exploring the Maison and getting to know the people who work there, the different designers, the leather goods and crafts, I was already jotting down my first formulas. I didn't want perfume ingredients that to me seemed too trite. I wanted to tell real stories on the skin. Fresh flower scenarios unfurled in my head. I wanted this delicacy to be embodied in each composition. And I was looking for olfactory movement, freshness, and transparency. Perfume is like Aladdin's lamp: once it's opened, it should produce some form of magic.
Q: You had access to extremely rare raw materials; how did you select them?
A: I went looking for ingredients that could help me tell the stories I wanted to tell. In China, I discovered magnolia, osmanthus and a truly astonishing sambac jasmine. In Grasse, I had CO2 extractions done with local jasmine and May roses; that's a first in the perfume industry. As for the leather infusions I used in certain compositions that were made to measure using Louis Vuitton's emblematic natural leather, or reworked like fine jewelry. In any case, having the best raw materials in one's palette does not guarantee a great creation. What I wanted in particular was to make use of their beauty to create surprise but not confusion. And to inspire rare emotions.
Q: Did the fact that you were working on seven perfumes simultaneously make the creative process more difficult?
A: I experienced immeasurable happiness while developing these seven fragrances. Working on seven leads simultaneously allowed me to create conversations among compositions. One provided respite from another when I was overcome by doubt. And it gave me great freedom because it let me tell seven different stories without trying to bring all women together in a single perfume. This adventure made me even more inventive and allowed me to push the creative boundaries of my approach to perfume.