LOEWE • Fall/Winter 2023 Campaign
August 18, 2023

4,091
French photographer Arnaud Lajeunie captures Kenshi Yonezu, an era-defining singer-songwriter and artist with a multifaceted creative career, wearing the latest looks from LOEWE Fall/Winter 2023 men's collection.
Japanese musician Kenshi Yonezu's multifaceted creative career spans beyond songwriting and performing, to illustrating his album covers and producing videos. With hit single Lemon setting the record for most played song in Japan and dominating Billboard Japan's song of the year for two consecutive years, Yonezu has logged historic records in both domestic and international music scenes. In 2023 he wrote Spinning Globe, the theme song for the latest Studio Ghibli film directed by Hayao Miyazaki, The Boy and the Heron.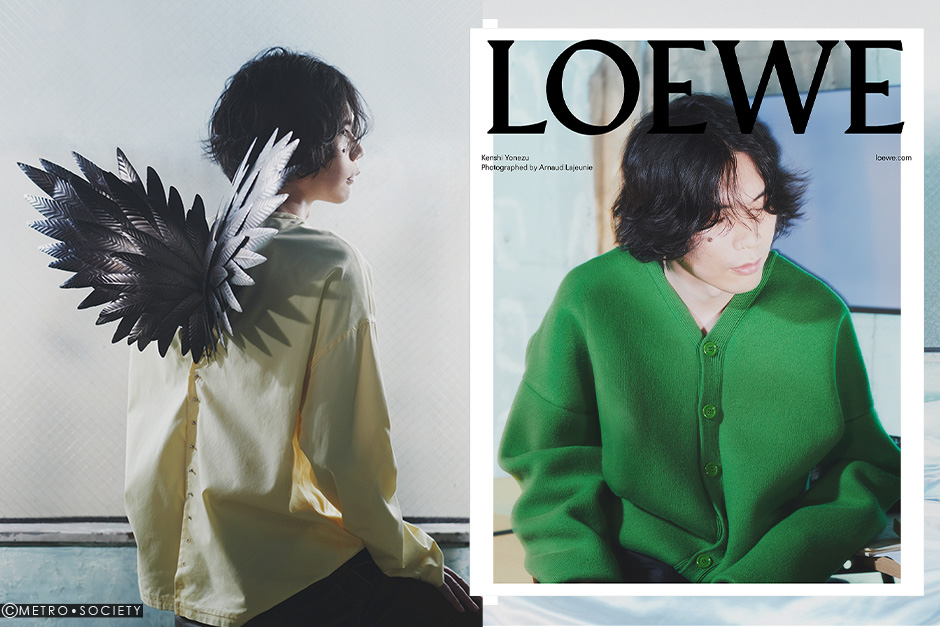 Giving a rare glimpse into Kenshi Yonezu's creative space, the campaign features the novels, comic books, and memorabilia that shaped his youth and creative identity. Against a series of blurred backdrops, Yonezu appears alongside the new Puzzle Fold tote and wearing looks including metal angel wings protruding from a studded shirt, a twisted coat exquisitely crafted from soft nappa lambskin, and lace-up derby shoes with exaggerated round toes; a key detail that has become a LOEWE signature. He lounges on a bed in pixelated jeans and a denim jacket, ponders in front of a piano in a workwear jacket crafted from nappa lambskin, and wanders on tatami in a vividly green draped cardigan
Still life images capture a bi-colour Puzzle Fold tote, the Puzzle bag in a bright red mushroom pattern, and Cubi Crossbody bag alongside Campo lace-ups in black calfskin and diverse iterations of small leather goods.
The campaign is brought to life with pop-in spaces at LOEWE Omotesando and CASA LOEWE Tokyo from August 16–23, where the imagery and artisan-crafted metal wings from the FW23 runway will be exhibited. A nationwide take-over sees the campaign appear across outdoor spaces, as well as the cover of Highsnobiety Japan with an editorial feature in the next issue, released September 1.
Creative director Jonathan Anderson says: 'It's an honour to collaborate with Kenshi Yonezu, one of the most influential music artists in Asia. I often explore themes of male sensibility in the collection, and I think the ambiguous, introspective energy of Kenshi's music naturally resonates with this aspect of LOEWE menswear. With LOEWE celebrating 50 years in Japan, the timing is also perfect. We look forward to continuing this kind of meaningful cultural dialogue.'