GUCCI • DIY
March 27, 2019

9,777
Celebrating Gucci's philosophy of championing self-expression, a dedicated area within the Siam Paragon Store in Bangkok will showcase the DIY service from 21st to 28th March 2019.
This project is very close to the heart of the House and enables customers to express themselves through the personalisation of selected products. The Gucci DIY programme in Siam Paragon will include identical pieces for men and women, women's ready-to-wear, sneakers and the Ophidia Tote.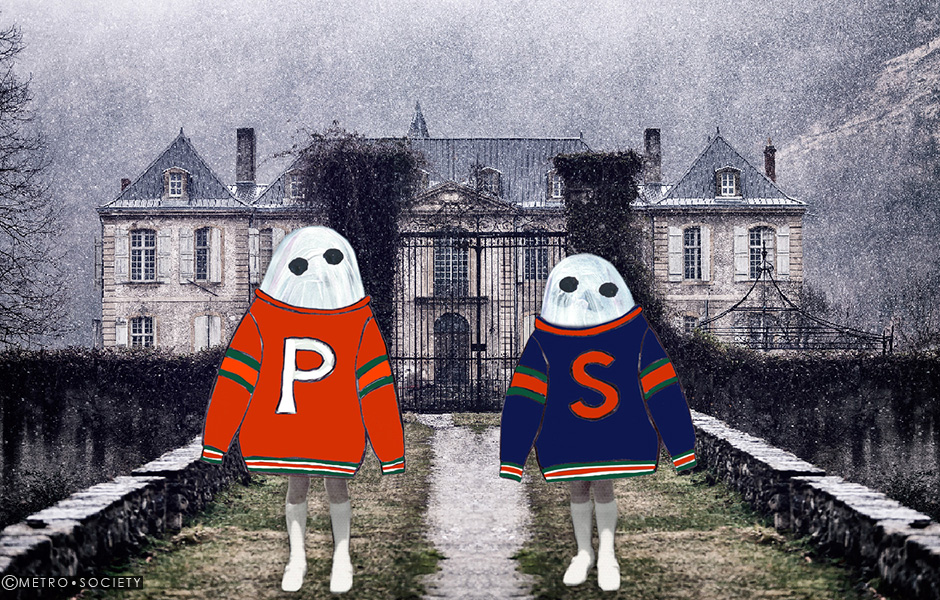 GENDERLESS OFFERING: BOMBERS, DENIM JACKETS, LEATHER JACKETS, SWEATSHIRTS
Gucci has started to promote more casual jacket styles and Gucci DIY has embraced this with the launch of unisex bombers and denim jackets. Bomber jackets are in silk and are available in a reversible style, in models with embroidery and patches, and in different single-colour options. The denim jackets are in 14 oz. Japanese denim and come in two washes and two fits; they can be lined in either silk or shearling, and are offered with different options of patches.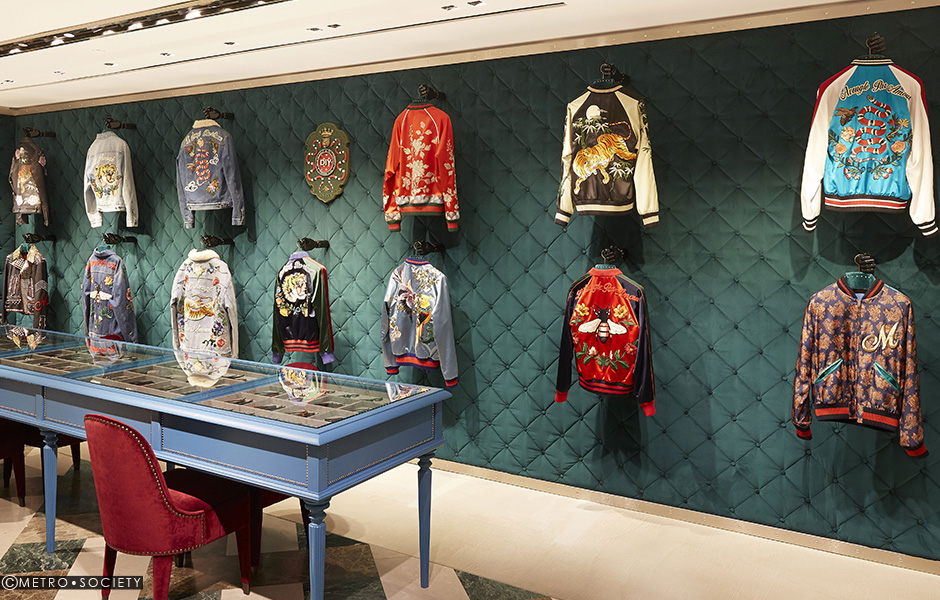 The customisation available depends on the garment in question, but beyond fabrics and colours it centres on options for a wide range of motifs that can be applied. The patches and embroidery on offer are drawn from Gucci's lexicon of symbols and include kingsnakes, flowers and bees. These can appear discretely on the cuff or collar of a shirt, or as a large patch on the back of a tailored or denim jacket. A large monogram patch can be applied to bomber, denim and leather jackets, as well as sweatshirts.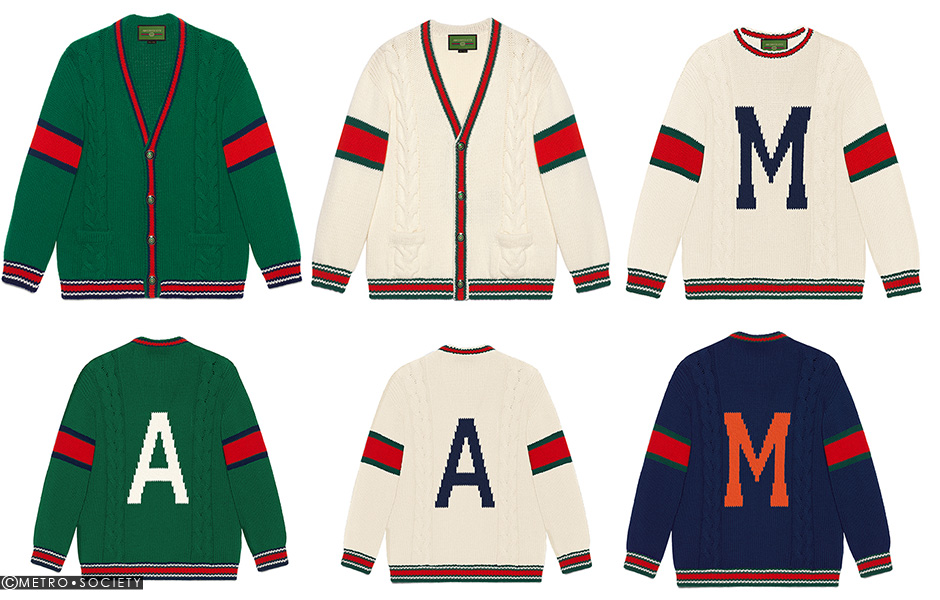 ABCDEFGUCCI SWEATERS
The knitwear in the DIY package comes in four base colours (green, blue, red and white), and the personalized detail is large letters that are intarsia-knitted into the garments. This makes them unique, as the customized decoration is incorporated into the knitted body, rather than being appliquéd through the use of patches. There are three styles interchangeable for men or women, all in 100% wool 3-gauge cable knit: a crew neck, a shawl collar bomber and a button-through cardigan. All styles feature stripes around the bottom, on the cuffs and on the sleeves, that reference the House Web stripe. On the crew neck the large letter is displayed on the front, while on the cardigan and the bomber, it appears on the back.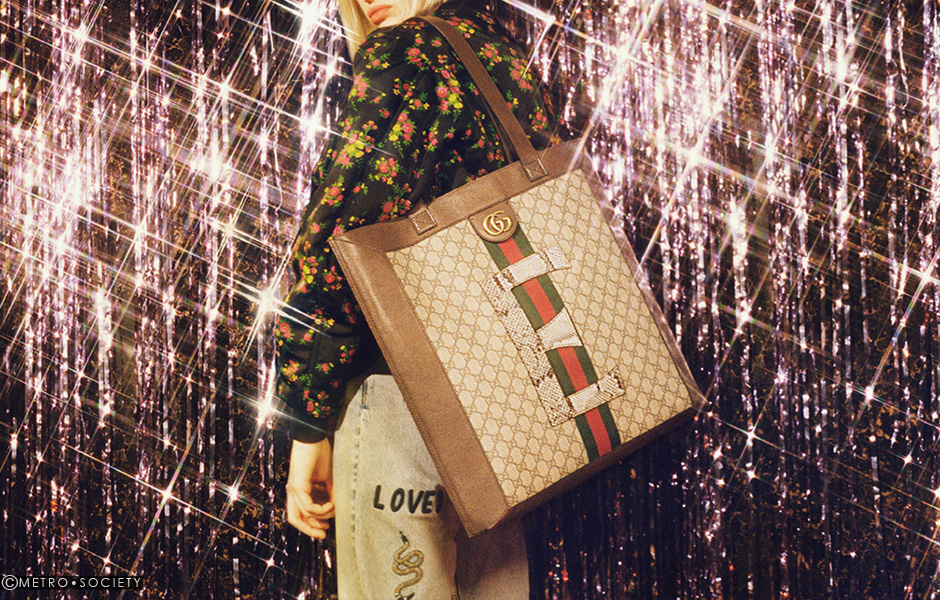 WOMEN'S RTW
Gucci DIY's programme also includes exclusive women's made to order pieces designed to be customized with initial patches. Leather jackets–a biker and bomber style–are also available as made-to-measure items and customers can lengthen or shorten the sleeves and jacket length. These leather statement pieces feature metal studs, rhinestones and multi-coloured hand-painted flowers, and can have a letter applied as a patch in gold thread on the chest (the bomber), or in red or gold thread on the left arm (the biker). Another biker jacket style, in black and white shiny, grainy leather, with hand painted dogs and multi-coloured rhinestones, is lined with a printed floral pattern on a cotton-linen fabric. This style reveals a large letter in either white or red thread, adorned with flowers, on its left arm.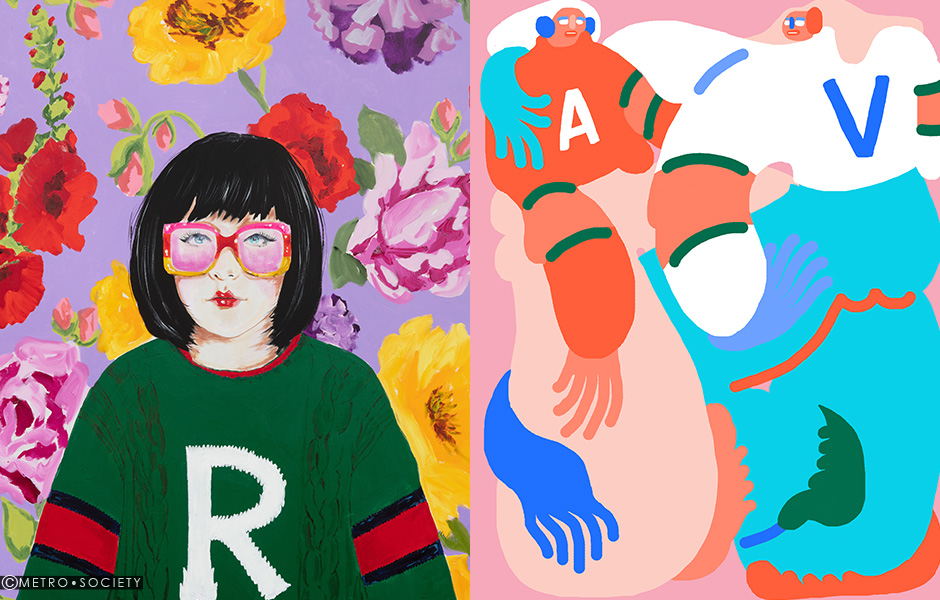 Chunky cardigans with intarsia floral designs can have letters adorned with flowers hand-embroidered onto the garment. Lined, belted robes in either washed silk-satin or matt marocain, with all-over multi-coloured floral embroidery and contrast white piping, also feature a letter with floral decoration as a hand-embroidered addition on the centre back (the silk-satin model) or the breast pocket (the marocain). A letter with floral decoration can be hand-embroidered onto the breast pocket of a wool-mohair tailored jacket with matching flared trousers. A black and white tweed jacket with blue and red grosgrain trim and gold tiger head buttons, and matching skirt, is designed to feature a patch on its breast pocket made up of two small letters and a small bow—all embroidered with pearls and applied by hand.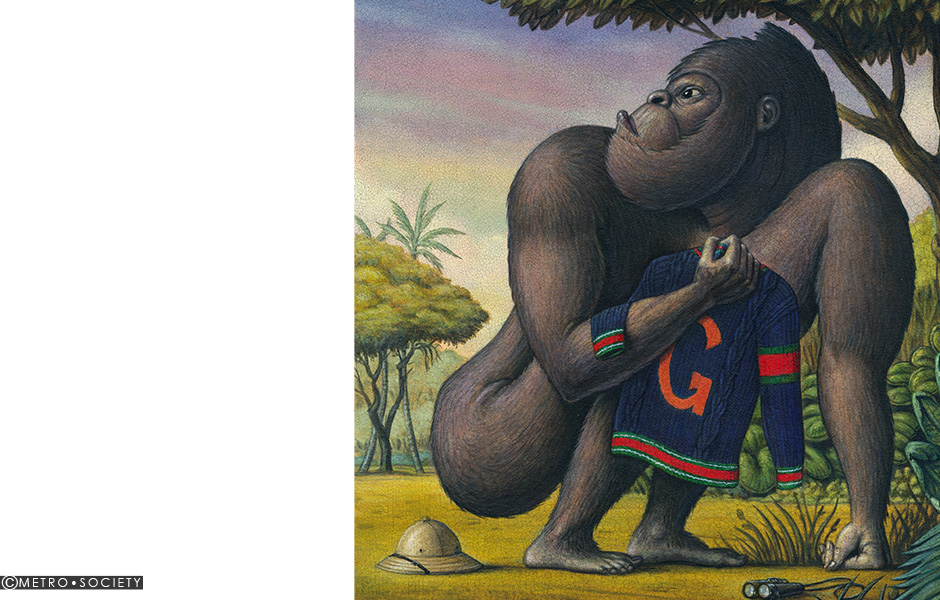 A light tweed cardigan and matching skirt in hibiscus red or gardenia, with a blue-red-blue grosgrain House Web detail, can have a large letter in dark blue thread hand appliquéd to its upper left side. And finally, an ivory-base silver-sequinned tweed jacket with tiger-head buttons and black velvet edges and details, with a matching skirt, is adorned with a single letter patch in black micro sequins that can be hand-applied to the upper left side, above the pocket.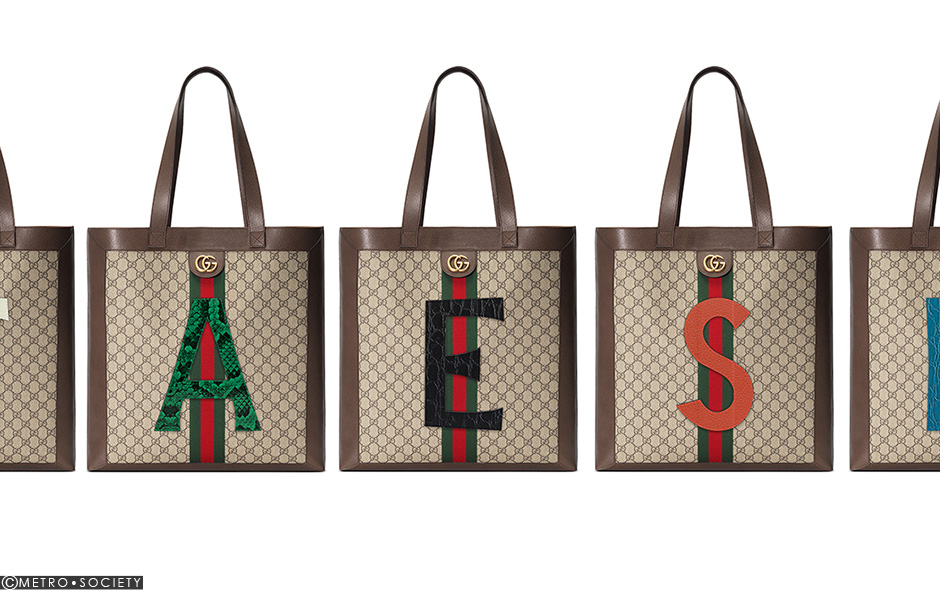 ABCDEFGUCCI TOTES & SNEAKERS
As well as clothing, Gucci DIY will also be available for the Ophidia tote bag and Ace sneaker. In a distinctive, specially-drawn, contemporary rounded font, a new Gucci DIY alphabet is available for customers to choose letters from. Once selected, the letters can be applied to the Ophidia tote bag, which features a background of the interlocking G pattern, a gold metal Double G decoration, a green-red-green Web stripe on both sides and brown leather trim and handles. Customers can choose among leather, crocodile, python or felt with crystal studded letters from the Gucci alphabet appliquéd at a large scale onto these bags, where they can place a different letter on either side.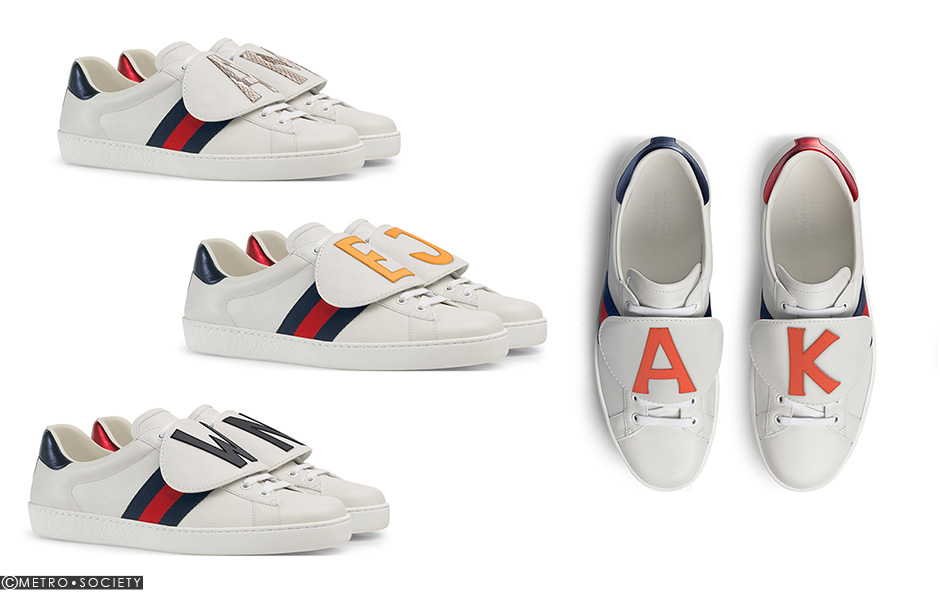 The same initialling design detail is available for a pair of Ace sneakers (one letter per shoe). The let-ters are fixed with two button-on patches, in a variety of material and color combinations—including bright red, green, yellow or pink, or black, leather, red, green or dark natural yellow python, shiny fuchsia or gold silk nappa, or black felt profiled with crystals. The sneakers are designed with blue-red-blue House Web stripes and heel trims in red and blue metallic leather. The shoes and bags feature a DIY signature mark (on the insoles of the shoes, and on the insides of the bags). The new DIY knitwear and accessories will be sold with a dedicated packaging printed with ABCDEFGucci.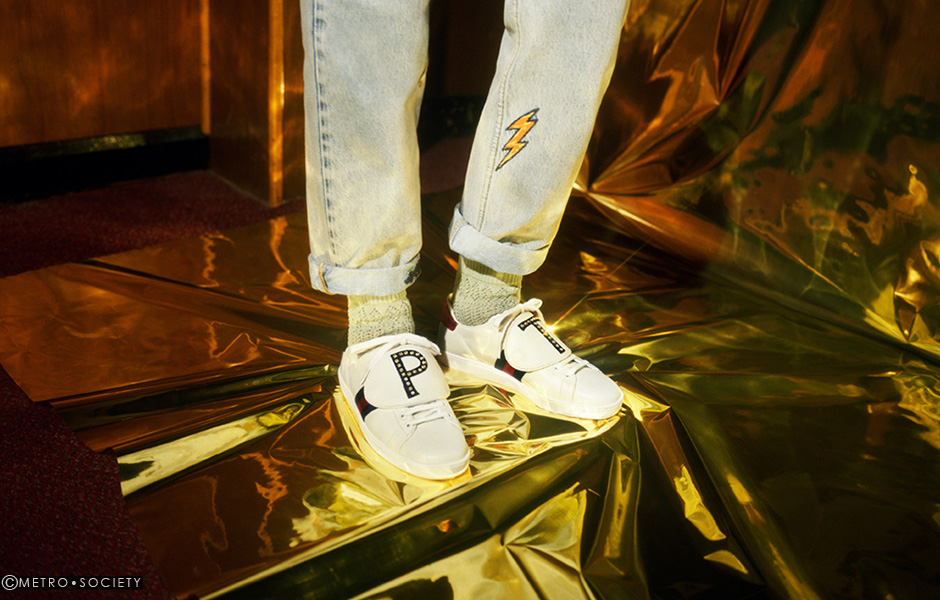 DIGITAL TOOLS
The dedicated section on Gucci.com allows customers to view virtual images of their personalised Gucci DIY products. These are created through a mixing of 3D computer-generated imagery and real product photography, a process that results in a genuine, life-like representation of materials and colour combinations. The functionality works seamlessly on all mobile, desktop and tablet devices.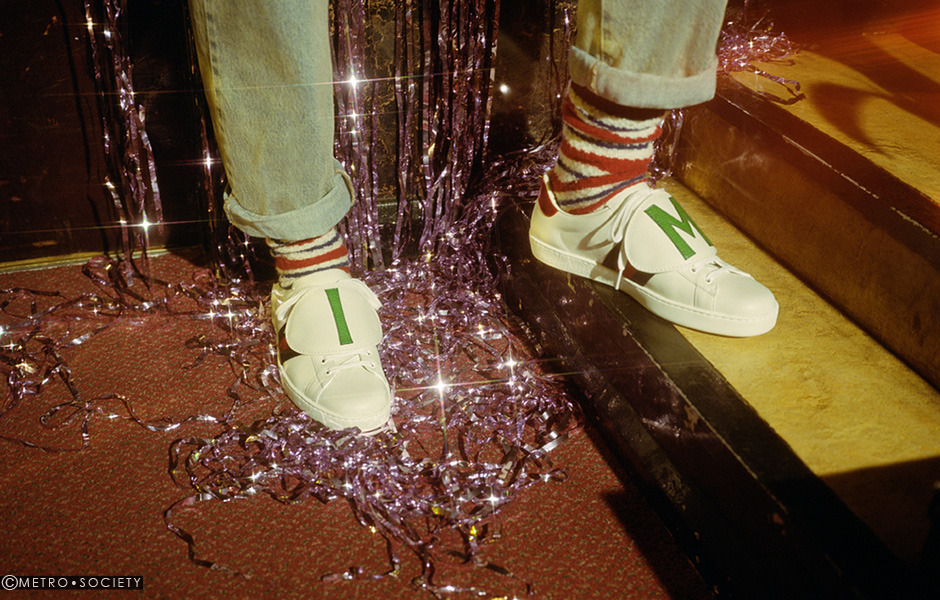 Bringing a life-like quality to the Gucci DIY offering in-store, Gucci has developed a dedicated in-store app utilizing augmented reality. The app allows the customer to extend the DIY visualisation experience by pointing a provided iPad's or iPhone's camera at a real Gucci product in the store, customising it, and then seeing it in a real-world setting.